P. David Lopez
General Counsel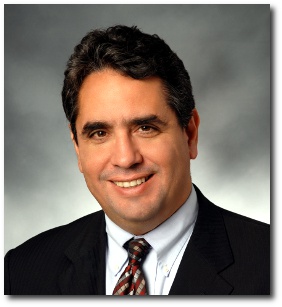 P. David Lopez was sworn in on April 8, 2010, as General Counsel of the U.S. Equal Employment Opportunity Commission (EEOC). He was nominated by President Obama on Oct. 22, 2009, and given a recess appointment on March 27, 2010, and confirmed by the Senate on December 22, 2010. Mr. Lopez is the first field staff attorney to be appointed as General Counsel.
David Lopez has served in the Commission for 15 years in the field and at headquarters. Prior to this, Mr. Lopez was a Supervisory Trial Attorney at the Commissionís Phoenix District Office, where he oversaw the litigation of a team of trial attorneys.
When Mr. Lopez initially joined the Commission 1996, he served as Special Assistant to then-Chairman Gilbert F. Casellas in Washington, D.C. In this capacity, he advised Chairman Casellas on policy and litigation matters and helped develop the agencyís strategic plan for development of pattern or practice cases. He also represented the EEOC in an inter-agency working group commissioned by the Clinton White House to monitor potentially discriminatory immigration legislation. In addition, as Special Assistant, he oversaw the development and coordinated the implementation of the Commissionís National Enforcement Plan, which is still in effect today.
In 1998, he joined the Phoenix District Office as a Senior Trial Attorney, later becoming a Supervisory Trial Attorney, fulfilling a long-held dream to practice civil rights law in his beloved hometown. During his tenure, Mr. Lopez has successfully tried several cases on behalf of the EEOC and its charging parties. These trials represent litigation on a wide variety of legal bases. He has won significant jury verdicts against Alamo Rent-a-Car (CV 02-1908-PHX-ROS, the first post-9/11 backlash religious accommodation case brought by the EEOC), GoDaddy (CV 04-2062-PHX-DGC, a national origin, religion, and retaliation case), and AutoZone (CV 06-926-PHX-SMM, an egregious sexual harassment case), to name a few.
In addition, Mr. Lopez has extensive experience developing large, high-impact systemic cases. Most notably, his involvement was pivotal in settlements reached in EEOC v. WalMart (CV 98-276-TUC-WDB, hearing impairment/disability), EEOC v. United Parcel Service (CV 98-1015-PHX-RGS, return to work policy/disability), EEOC v. Lennar Homes (CV 03-1827-PHX-DGC, age discrimination/RIF), EEOC v. AutoZone (CV 06-1767-PCT-PGR, visual impairment/reasonable accommodation) EEOC v. Pinnacle Nissan (CV 00-1872-PHX-LOA, race and national origin harassment), EEOC v. Blockbuster (CV 04-2007-PHX-FJM, religious accommodation) and EEOC v. University of Phoenix (CV 06-2303-PHX-MHM, religion disparate treatment case). In all of these settlements, large-scale monetary relief and extensive injunctive relief were obtained on behalf of the Commission and the victims of discrimination.
During his tenure in Phoenix, Mr. Lopez exhibited an eye for systemic litigation in novel issue areas, thereby contributing to the realization of the targeted National Enforcement Plan he helped create while serving as Special Assistant. Mr. Lopez has also done extensive speaking and outreach to bar associations, schools, and community based groups.
Immediately prior to joining the Commission, Mr. Lopez was a Senior Trial Attorney with the Civil Rights Division, Employment Litigation Division, of the U.S. Department of Justice in Washington, D.C. between 1991 and 1994. In this capacity, he litigated employment discrimination cases against state and local governments in numerous jurisdictions throughout the United States on behalf of the Department of Justice.
Between 1988 and 1991, Mr. Lopez was an Associate with Spiegel and McDiarmid in Washington, D.C., where he practiced anti-trust and administrative litigation.
Mr. Lopez graduated from Harvard Law School in 1988 and graduated magna cum laude from Arizona State University in 1985, with a B.S. in Political Science.
Mr. Lopez has been married 19 years to Maria Leyva. They have three children, Javier David (14), Julian Diego (11), and Luis Andres (9).