1964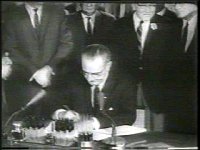 At 7:40 on the evening of June 19, after the longest debate in its nearly 180-year history, the U.S. Senate passes the Civil Rights Act of 1964. The vote in favor of the bill is 73 to 27. Thirteen days later, on July 2, the U.S. House of Representatives passes the bill and President Lyndon B. Johnson signs the bill into law that same evening. Five hundred amendments were made to the bill and Congress has debated the bill for 534 hours.
The Civil Rights Act of 1964 prohibits discrimination in a broad array of private conduct including public accommodations, governmental services and education. One section of the Act, referred to as Title VII, prohibits employment discrimination based on race, sex, color, religion and national origin. Title VII applies to private employers, labor unions and employment agencies. The Act prohibits discrimination in recruitment, hiring, wages, assignment, promotions, benefits, discipline, discharge, layoffs and almost every aspect of employment.
Title VII of the Civil Rights Act of 1964 also creates the U.S. Equal Employment Opportunity Commission (EEOC), a five-member, bipartisan commission whose mission is to eliminate unlawful employment discrimination. The law provides that the Commissioners, no more than three of whom may be from the same political party, are appointed to five-year terms by the President and confirmed by the Senate. The Chairman of the agency appoints the General Counsel. EEOC is to open its doors for business on July 2, 1965 -- one year after Title VII's enactment into law.
---
Next: 1965