The U.S. Equal Employment Opportunity Commission
---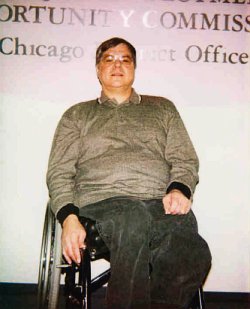 "The EEOC Consent Decree not only rights the wrongs against me, it also helps level the playing field for other disabled workers," said charging party David Mateski at the Chicago District Office.
PRESS RELEASE
12-16-02
DONNELLEY TO PAY $150,000 TO PARAPLEGIC GRAPHICS TECHNICIAN FOR JOB BIAS
EEOC Consent Decree with Printing Giant Requires Anti-Discrimination Policy for Temporary Employees and Training
CHICAGO - Judge Matthew Kennelly of the United States District Court for the Northern District of Illinois has entered a $150,000 Consent Decree resolving a case brought by the U.S. Equal Employment Opportunity Commission (EEOC) under Title I of the Americans with Disabilities Act of 1990 (ADA) against R.R. Donnelley & Sons (R.R. Donnelley), the commercial printing giant, on behalf of David Mateski, a paraplegic graphics technician who uses a wheel chair and who was filling a temporary position for the company.
The case arose after Mateski, who is a graduate of Southern Illinois University with a Bachelor's Degree in Commercial Graphics and an Associates Degree in Commercial Graphics Design, was hired through a temporary agency for a temporary position in the on-line services division at R.R. Donnelley in December of 1997. A few hours after Mateski arrived for his first day of work at the company's Elgin, Illinois, facility on January 8, 1998, he encountered a rare incontinence problem and was permitted to return home to deal with it. That afternoon, his R.R. Donnelley supervisor called the temporary agency and told the agency that Mateski could not come back to work. Mateski filed a Charge of Discrimination with the EEOC and the federal agency found reasonable cause to believe that R.R Donnelley had discriminated against Mateski because of his disability. After the EEOC's efforts to conciliate the case proved unsuccessful, the agency filed suit.
Pre-trial discovery in the case revealed that, although the company had written policies prohibiting disability discrimination, R.R. Donnelley had not trained the managers at its Elgin, Illinois, facility where Mateski worked.
In addition to providing for $150,000 in monetary relief to Mateski, the Consent Decree requires R.R. Donnelley to train all managers at the Elgin facility about disability discrimination and to ensure that all of the human resources personnel throughout its 31,000 employee operation have received such training. The Consent Decree also mandates that the company's anti-disability discrimination policies make specific mention of temporary employees, who may be unaware that they are entitled to the same protection from discrimination as permanent employees.
EEOC's Chicago Regional Attorney John C. Hendrickson explained, "This Consent Decree is an important one. It involves a major metropolitan Chicago area employer, it provides for a large award of monetary relief which is appropriate in this case, it makes clear that employers must train their personnel staff on implementing policies against discrimination, and it drives home the point that temporary employees are covered by federal law just like other employees."
Hendrickson continued, "EEOC had a very strong case here. What happened to Mr. Mateski was clearly wrong, and we were prepared to prove that at trial. EEOC expected a six-figure verdict, so we're pleased to have secured that and other relief on a faster track. We are also pleased that the Consent Decree as entered by the Court reflects the strength of our case and does not include any language supporting a denial of liability by R.R. Donnelley."
David Mateski, the charging party, said, "This was a job I really wanted and knew I could do. I knew what had happened to me was because of discrimination just as soon as it happened, and I decided not to let it pass. I'm glad I filed the charge with EEOC and I'm glad EEOC stuck with the case. The EEOC Consent Decree not only rights the wrong against me, it also helps to level the playing field for other disabled workers at Donnelley, and I'm proud of that."
The case was filed by the EEOC in the federal district court for the Northern District of Illinois in Chicago on June 6, 2001, and captioned EEOC v. R.R. Donnelley & Sons Company, Inc. The case number is 01 C 4218. The Consent Decree was signed by the Judge on December 13, 2002.
John Rowe, Director of the EEOC's Chicago District Office, said: "In addition to providing substantial monetary relief to Mr. Mateski, this settlement accomplishes something important for all R.R. Donnelley employees by providing for training and policy changes that will have a long-term positive impact on their workplace."
EEOC's Chicago Supervisory Trial Attorney Noelle Brennan concurred, noting that, "The Consent Decree assures that Donnelley will remain committed to equal opportunity for disabled employees whether in temporary or permanent positions."
"The settlement of this case reflects the commitment of both the EEOC and R.R. Donnelley to working together to achieve a result that benefits the workforce of as a whole," said EEOC's Chicago Trial Attorney Deborah Hamilton. "Something good came out of a gross error by the company."
Title I of the ADA prohibits private employers, state and local governments, employment agencies and labor unions from discriminating against qualified individuals with disabilities in job application procedures, hiring, discharge, advancement, compensation, job training and other terms and conditions of employment.
EEOC is the federal agency charged with the administration, interpretation and enforcement of Title VII of the Civil Rights Act of 1964, as amended, which prohibits employment discrimination based on race, color, religion, sex, pregnancy or national origin. The EEOC is also responsible for enforcing the Age Discrimination in Employment Act of 1967, as amended; the Equal Pay Act of 1963; and the Americans with Disabilities Act of 1990, which prohibits discrimination based on disability. More information about the EEOC and the laws it enforces can also be found online at http://www.eeoc.gov.
---
This page was last modified on December 16, 2002.

Return to Home Page