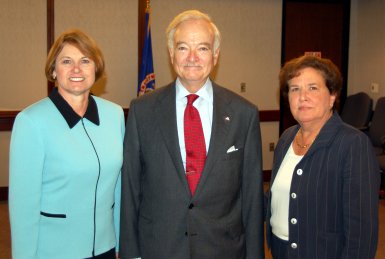 EEOC Chair Cari M. Dominguez, General Counsel Ronald Cooper and
Chief Operating Officer Leonora Guarraia
PRESS RELEASE
8-11-06
RONALD COOPER SWORN IN AS EEOC GENERAL COUNSEL
WASHINGTON – Ronald S. Cooper was sworn in today as General Counsel of the U.S. Equal Employment Opportunity Commission (EEOC) for a term of four years. Cooper, most recently a partner with the Washington office of Steptoe & Johnson LLP, was nominated by President Bush on March 27 and unanimously confirmed by the U.S. Senate on July 26.
"As the Commission moves to a national law firm model, the President could not have made a better choice for General Counsel than Ronald Cooper," said Commission Chair Cari M. Dominguez. "Ron brings a wealth of experience, expertise in labor and employment law, and dedication that will help us advance the fight for equal opportunity in the American workplace."
The EEOC's General Counsel is responsible for the conduct of the Commission's enforcement litigation program, which is managed by 15 Regional Attorneys in the EEOC's district offices. The General Counsel is also responsible for the operations of all other components of the Office of General Counsel, including staff in the headquarters office, which includes a division that handles all of EEOC's appellate and amicus curiae work.
"I am honored and proud to have the opportunity to serve in this important position and to play a role in furthering EEOC's objective of equal employment opportunity," Mr. Cooper said after taking the oath of office from Chair Dominguez at Commission headquarters. "My appreciation for EEOC and its mission is based on more than 30 years of observation and interaction in private practice."
During his 34 years at Steptoe & Johnson, Mr. Cooper specialized in employment litigation, primarily representing employers at the trial and appellate level in litigation throughout the country. These representations included cases brought under Title VII, The Age Discrimination in Employment Act, The Equal Pay Act, The Americans with Disabilities Act and The Fair Labor Standards Act, and included large class actions and government enforcement proceedings. In addition to cases brought under federal law, he has represented employers with respect to employment claims brought under state and local laws. Mr. Cooper also represented both employees and employers in restrictive covenant and executive compensation cases.
Mr. Cooper has been a fellow of the College of Labor and Employment Lawyers since 1997. He is a member of the ABA's Section of Labor and Employment Law and has held a number of leadership positions in that group including service as Management Chair of its Continuing Legal Education Committee. He most recently served as Management Chair of its International Labor Law Committee. For 13 years, Mr. Cooper has served on the Metropolitan Board of Directors of the Boys & Girls Clubs of Greater Washington, which operates 21 clubs serving 36,000 children a year, many of whom are "at-risk." He has also served on that organization's Executive Committee, and most recently as its General Counsel.
Born and raised in Athens, Ga., Mr. Cooper received his AB degree in the honors program of the University of Georgia, where he was elected to Phi Beta Kappa, and earned his JD degree from the University of Georgia School of Law. He served as law clerk to Judge Walter P. Gewin, U.S. Court of Appeals for the Fifth Circuit, 1969-70, and as a Staff Attorney in the U.S. Department of Labor, Office of the Solicitor, Appeals Section, 1970-72.
Mr. Cooper has lived in Alexandria, Va., for 36 years. He has been married to the former Carolyn Vardine for 39 years. They have two adult daughters, Stephanie J. Massey and Jessica K. Cooper.
Deputy General Counsel James Lee has been overseeing the Office of General Counsel since August 2005, when then-General Counsel Eric Dreiband left the Commission for private practice.
The EEOC is responsible for enforcing federal laws prohibiting employment discrimination. Further information about the EEOC is available on its web site at www.eeoc.gov.
---
This page was last modified on August 11, 2006.

Return to Home Page