The Equal Employment Opportunity Commission (EEOC) is the federal agency responsible for enforcing the nation's laws prohibiting employment discrimination. As part of our mission, we receive, review and investigate charges of employment discrimination and file discrimination lawsuits involving private sector employers. We also conduct administrative hearings and issue appellate decisions in the federal sector. Our guidance and information help both employers and employees to better understand their rights and responsibilities under the laws we enforce. A more detailed explanation of our structure and the laws we enforce can be found in Appendix A.
We strive to ensure equal opportunity for all to compete on the basis of merit in the workplace and to eliminate the pernicious and invidious effects of unlawful discrimination. We also strive to be proactive by initiating education programs that promote a productive, harmonious and inclusive workplace for employees and applicants, as well as managers and business owners—from small businesses to Fortune 500 corporations.
This FY 2008 Performance and Accountability Report (PAR), prepared in accordance with the Reports Consolidation Act of 2000 and the Office of Management and Budget's (OMB) Circular A-136, Financial Reporting Requirements, presents the results of the agency's programs and financial performance, along with its management challenges. This section of the PAR summarizes our efforts in each of these areas. A more detailed discussion can be found in the following sections of the report:
highlight the progress made in meeting the Commission's performance measures, which are articulated in our modified Strategic Plan for FYs 2007 through 2012.
present key management challenges identified by the Inspector General and the agency's progress and plans to address them, as well as a statement of compliance with the Federal Managers' Financial Integrity Act (FMFIA).
demonstrate our efforts to be good stewards over the funds the agency receives to carry out its mission. Included in this section is an independent auditor's opinion on the agency's financial statements.
This report also satisfies the agency's obligation to provide Congress annual reports of our significant accomplishments achieved during the fiscal year. This report is available on our website at www.eeoc.gov/abouteeoc/plan/par/2008/index.html.
All of our activities during the past fiscal year were in furtherance of our mission of promoting equality of opportunity in the workplace while providing high quality, professional customer service to the public. Additionally, the agency has nearly completed its transitioning of the National Contact Center (NCC)—a Center responsible for receiving initial calls and inquiries from the public—from an outside contractor to an in-house operation called the Intake Information Group (IIG). The steps taken during FY 2008 included the hiring and training of EEOC staff and beginning the process of acquiring the technology needed to provide excellent customer service. We expect that the transition, which began in December 2007, will be completed by February 2009.
The EEOC Headquarters office lease expired in July 2008. The existing building is no longer feasible for housing the current Headquarters staff, and it was necessary to find other space. In May 2007, the General Services Administration (GSA) announced the signing of a 10-year lease for office space at 131 M St. NE, which is known as One NoMa Station. The move began in November 2008. Throughout FY 2008, preparations for the move have been underway. A number of committees staffed by employees have been working with the Office of the Chief Financial Officer to make the transition as smooth as possible. Additionally, the Office of Communications and Legislative Affairs created an internal web log or "blog" that has been providing updated information on the move in order to ensure a free and transparent flow of information to staff.
The preparations for the move took place in tandem with other repositioning efforts that began several years ago. The physical move of Headquarters and the Washington Field Office staff, combined with the organizational restructuring that has already taken place in the field and under study for Headquarters, all emphasize ways to allow the EEOC to use its human capital where it is most needed. These efforts will permit the EEOC to retain its role as the preeminent civil rights agency well into the 21st century.
The Performance and Accountability Report is based on our modified Strategic Plan for fiscal years 2007 through 2012 and, correspondingly, aligns with the agency's Strategic Objective of Justice, Opportunity and Inclusive Workplaces. The modified Strategic Plan provides the roadmap for the agency to position itself for the future.
The modified Strategic Plan builds upon what the agency has accomplished to improve its operations. It seeks to maintain the agency's momentum by continuing measures to prevent discrimination; continuing to use Alternative Dispute Resolution (ADR); developing a more strategic focus in our enforcement, litigation and federal programs; continuing a strategy to focus on race and color discrimination through our E-RACE Initiative (Eradicating Racism And Colorism from Employment); and ensuring the effective and efficient functioning of the agency's internal operations.
At the beginning of fiscal year 2007, we issued a new Strategic Plan, which emerged from the agency's Program Assessment Rating Tool (PART) review conducted in 2006. During fiscal years 2007 and 2008, the agency reassessed the plan's structure in order to implement the improvement plan developed under the PART process. This effort resulted in modifications we made to the Strategic Plan, which were approved by a Commission vote on July 28, 2008.
In the Performance Results section of the PAR, we elaborate on the alignment of this modified strategic approach for our Strategic Plan; the PART review; the modifications to our performance measures; and the steps we have taken to implement the improvement plan. (See the Addendum on page 35 at the end of the Performance Section for a description of specific modifications made to the Strategic Plan.) We also describe our Strategic Objective and its relationship to the EEOC's expected long-term outcomes and annual performance measures (see chart on Strategic Plan Overview, below). Our integrated strategy demonstrates the EEOC's impact on creating fair and inclusive workplaces across the United States.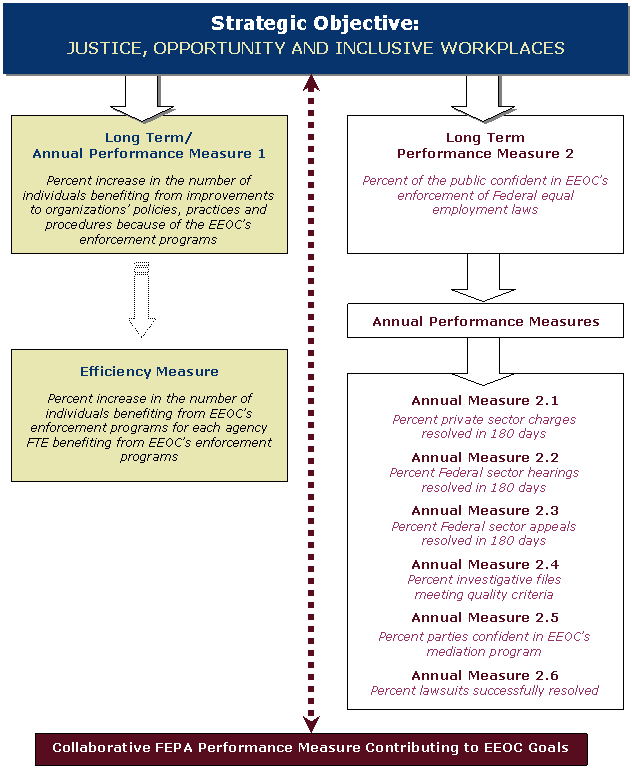 The agency has nine performance measures under its Strategic Objective. These measures are used to drive results and accountability throughout the agency. EEOC achieved or exceeded the targets for eight of these measures. The target for one measure was not met this year. The Strategic Plan for Fiscal Years 2007-2012 was initially implemented on October 1, 2006 (FY 2007). Throughout fiscal years 2007 and 2008, the agency modified it to address new methodologies that were required to collect data that did not already exist and to make other necessary adjustments. The modified Strategic Plan was approved by the Commission on July 28, 2008.
Our progress in meeting our nine measures is summarized below and discussed in detail in the Performance Results section of this report.
EEOC FY 2007 Performance

| Measures | Targets Met or Exceeded | Targets Not Met |
| --- | --- | --- |
| 9 | 8 | 1 |
Our modified performance measurement structure identifies the results we achieved to benefit individuals in workplaces nationwide and to provide both timely and high quality service to our customers. Long Term/Annual Measure 1 was developed during OMB's PART review in FY 2006. During discussions with OMB during FY 2007, we modified and focused this measure on our private and federal sector enforcement programs. The measure is designed to demonstrate the results the agency achieves for all individuals affected by changes in workplaces resulting from our enforcement activities. During the past fiscal year, we collected the data for our enforcement programs and established a baseline value. In early FY 2008, we established annual targets and a final goal. Since our new Efficiency Measure is directly linked to the data collected for Long Term/Annual Measure 1, we also established a base line and identified the targets and a goal for this measure. We explain our efforts to develop both measures in more detail in the Performance Section.
Private Sector Enforcement Program: Providing quality services that are fair and prompt for both employees and employers in our administrative processing system is vital to our mission. In FY 2008, we received 95,402 private sector charges of discrimination, a 15.2% increase from FY 2007. We also received 2,666 charges through net transfers from state and local Fair Employment Practices Agencies (FEPAs). We achieved 81,081 resolutions, with a merit factor resolution rate of 21.4%. (Merit factor resolutions include mediation and other settlements and cause findings, which, if not successfully conciliated, are considered for litigation.) In comparison, the merit factor resolution rate for FY 2007 was 22.9%. Through our administrative enforcement activities, we also secured more than $274.4 million in monetary benefits, which is lower than the $290.6 million obtained in FY 2007. Overall, we secured both monetary and non-monetary benefits for more than 18,304 people through our charge processing. The increased receipts compared with FY 2007 left us with a pending inventory of 73,951 charges at the end of the fiscal year, compared with the FY 2007 figure of 54,970.
Timeliness is a key measure of our success in processing private sector charges. Measure 2.1 tracks our progress in resolving charges in 180 days or fewer. For several important reasons, explained in the Performance Section, the annual targets and final goal for this measure were modified. Based upon the modified target for FY 2008, we resolved 48.5% of the charges within the time frame; moderately exceeding the new target of 48%.
Our other key measure for success in processing private sector charges assesses the quality of our charge files. Under Measure 2.4, we exceededour FY 2008 target of 90% of investigative charge files meeting the standard of quality, with 97.0% meeting the quality standard.
Federal Sector Enforcement Program: In our federal sector enforcement role, the EEOC is responsible for providing hearings and appeals after the initial processing of the complaints by each individual federal agency. Unlike our responsibilities in the private sector, we do not process complaints of discrimination for federal employees. In the federal sector, individuals file complaints with their own federal agencies and those agencies conduct a full and appropriate investigation of the claims raised in the complaints. Complainants can then request a hearing before an EEOC administrative judge. In FY 2008, we received a total of 8,036 requests for hearings, which is slightly more than the 7,869 received in FY 2007. Additionally, we resolved a total of 7,138 complaints and secured more than $104.7 million in relief for parties in these complaints. Our Strategic Plan for FY 2008 set a target for Measure 2.2 to resolve 50% of federal sector hearings in 180 days or fewer. We did not meet our goal, resolving 38.6% of hearings cases in 180 days or fewer; this is below the target for FY 2008. This is due in large part to the agency's focus on enhancing the quality of federal hearings and the loss of a significant number of administrative judges during the year.
The EEOC also adjudicates appeals of federal agency actions on discrimination complaints and ensures agency compliance with decisions issued on those appeals. During FY 2008, the EEOC received 5,082 requests for appeals of final agency actions in the federal sector. We made significant gains in processing our federal sector appellate inventory during FY 2008. Our goal for Measure 2.3 was to resolve 62% of appeals within 180 days or fewer. In FY 2008, we resolved 5,303 appeals, 63.3% of them within 180 days of their receipt. We were able to exceed our goal because of effective management of the appellate inventory and technological innovations. For FY 2009, we are increasing our target to 64% to continue to address our appeals workload in an ambitious manner.
Private Sector Mediation Program: The EEOC's mediation program has been very successful and has contributed to our ability, over the past few years, to better manage our growing inventory and resolve charges in 180 days or fewer. In FY 2008, the EEOC's National Mediation Program secured 8,840 resolutions, which is 2% more than the 8,649 reported in FY 2007. We obtained more than $124.1 million in monetary benefits for complainants from mediation resolutions, which is equal to the $124 million in monetary benefits in FY 2007.
Performance Measure 2.5 highlights an important aspect of our private sector mediation program: the confidence that employers and charging parties have in the program. Participant confidence in our program remains high, with our FY 2008 figures reflecting that 96.5% of all participants would return to EEOC's Mediation Program in the future. This exceeds our target for Performance Measure 2.5 of maintaining a 90% rate. We believe this high confidence level helps with our continuing efforts to convince parties to charges, particularly employer representatives, of the value of the mediation approach. In addition, we are increasing our target for FY 2009 to 92% as we strive toward a higher final goal of 95% by FY 2012 for our current Strategic Plan.
Although participants almost uniformly view our mediation program favorably, the percentage of employers agreeing to mediate is considerably lower than the percentage of charging parties agreeing to mediate. As part of our effort to increase the participation of employers in the mediation program, we have encouraged employers to enter into Universal Agreements to Mediate (UAMs). These agreements reflect the employer's commitment to utilize the mediation process to resolve charges.
Many employers entered into these agreements in FY 2008, resulting in a cumulative multi-year total of 1,452 UAMs (177 National/Regional UAMS and 1,275 Local UAMs). This is a 14% increase from our FY 2007 level of 1,269 UAMs.
Federal Sector Mediation Program: Using Alternative Dispute Resolution (ADR) techniques to resolve workplace disputes throughout the federal government can have a powerful impact on agencies' EEO complaint inventories and, in turn, the Commission's hearings and appeals inventories. Resolving disputes as early as possible in the federal sector EEO process improves the work environment and reduces the number of formal complaints, allowing all agencies, including the EEOC, to redeploy resources that otherwise would be devoted to these activities. In addition, a growing number of agencies have incorporated dispute prevention techniques into their ADR programs, further increasing productivity and reducing the overall number of employment disputes.
Data submitted by federal agencies at the close of FY 2007, the most recent data available, indicate that there were 37,809 instances of pre-complaint EEO counseling across the federal government. Of that number, the parties participated in ADR in 18,262 cases, or 48.3% of the time.
The Commission's efforts in promoting and expanding mediation/ADR at all stages of the federal EEO complaint process also appear to be having a positive effect on federal agencies' EEO complaint inventories, as the number of formal complaints filed in FY 2007 declined by 2.2% over the previous year. As more agencies expand their efforts to offer ADR during the informal process, we expect to see continued decreases in the number of formal complaints filed, which will reduce costs for complainants and all federal agencies, and enable agencies to focus resources on their primary missions.
EEOC continues to actively pursue a variety of ways to assist federal agencies in improving alternative dispute resolution by identifying and sharing best practices, providing assistance in program development and improvements, providing training to federal employees and managers on the benefits of ADR, and maintaining a web page that serves as a clearinghouse for information related to federal sector ADR. We will continue to expand technical assistance efforts with agencies to encourage the development of effective ADR programs and promote ADR training among government managers and staff.
The Commission's litigation program provides relief for victims of discrimination, many of whom have no other recourse, and also encourages employers to resolve cases in the EEOC's administrative process before litigation is contemplated. In FY 2008, EEOC field legal units filed 290 "merits" lawsuits and 36 subpoena enforcement and other actions. 179 of the new filings were individual suits and 111 were class suits. Six trials were held this fiscal year. Legal staff resolved 339 "merits" lawsuits for a total monetary recovery of $102,151,138 ("merits" lawsuits include direct suits and interventions alleging violations of the substantive provisions of the statutes enforced by the Commission and suits to enforce administrative settlements). Of these resolutions, 265 contained Title VII claims, 47 contained Americans with Disabilities Act of 1990 (ADA) claims, 41 contained Age Discrimination in Employment Act of 1967 (ADEA) claims, and 3 contained Equal Pay Act of 1964 (EPA) claims. The number of total merits lawsuits is less than the sum of suits based on each individual law as some suits are filed on multiple bases. We also resolved 27 subpoena enforcement and other actions during the fiscal year. In terms of dollars recovered in direct, indirect and intervention lawsuits by statute, EEOC recovered $65,611,235 in Title VII resolutions, $30,270,298 in ADEA resolutions, $3,549,033 in ADA resolutions, $971,961 in EPA resolutions and $1,748,610 in resolutions involving more than one statute. At the end of FY 2008, the number of cases on the EEOC's active docket that involve multiple aggrieved parties or challenges to discriminatory employment policies was 238 or 45% of our total year-end caseload.
Refer to our website at www.eeoc.gov for a fuller depiction of litigation statistics and year-by-year data comparisons.
The Office of General Counsel has made implementation of the agency's new systemic program a chief priority this year. The systemic initiative was launched in April 2006 with the Commission's adoption of the recommendations of an internal task force, which prescribed comprehensive measures to improve all aspects of the agency's systemic work. The Commission's objective was to strengthen and modernize its nationwide approach to identifying, investigating, and litigating systemic cases, which the task force report defines as "pattern or practice, policy and/or class cases where the alleged discrimination has a broad impact on an industry, profession, company, or geographic location." Since 2006, the Office of General Counsel has refocused its law enforcement activities to carry out the Commission's mandate that "combating systemic discrimination should be a top priority at EEOC and an intrinsic, ongoing part of the agency's daily work."[1]
This year, the Commission reviewed the progress of the systemic initiative at a public meeting and received a report from the Committee of Advisors for Systemic Enforcement ("CASE"), an advisory group of senior enforcement and litigation staff created by the task force to assess the agency's overall effectiveness in combating systemic discrimination and serve as a resource on systemic matters.[2] As reported by CASE, the agency has made substantial progress towards a revitalized and dynamic systemic program. The number of systemic investigations has increased substantially. At the end of the fiscal year, 38 Commissioners' charges were under investigation, compared to only 15 Commissioners' charges in investigation as of March 31, 2006. Systemic investigations based on charges filed by the public have also increased significantly. Systemic lawsuits have been filed across the country under every statute enforced by the agency, involving a broad set of bases and issues and a wide variety of industries, and included cases that advance the agency's E-RACE initiative.
Systemic cases are significantly more complex cases. They require greater resources, more highly trained investigators and attorneys, and sophisticated expert analysis by statisticians, industrial psychologists, and labor market economists. To address these needs, we are making more efficient use of our legal staff through partnerships among district offices and collaborative work on the larger cases. We are investing in the technology tools that are critical to a vigorous nationwide litigation practice. We are providing training to our staff and are working to better equip our lawyers and investigators to manage and analyze the very large amounts of case-related data in support of systemic investigations and litigation.
To accomplish the goals of the systemic initiative, the Office of General Counsel anticipates a shift in the composition of its litigation docket over time. We expect fewer small, individual cases and more cases on behalf of larger groups of individuals. While this is leading to a decline in the total number of lawsuits filed each year, compared to previous years, we expect that the overall impact of our litigation will be enhanced as larger cases are filed and resolved. Shifting the balance will enable us to use the agency's limited resources in the most efficient and effective manner. Nonetheless, individual cases, particularly those under the Americans with Disabilities Act, will remain an important component of the agency's docket and will continue to be strategically selected to have impact beyond their individual circumstances.
We highlight four noteworthy resolutions of systemic discrimination cases this year.[3] The largest by far was a suit against Sidley Austin, a large international law firm based in Chicago. The suit alleged that the firm implemented and maintained an age-based retirement policy and downgraded or expelled from its partnership certain partners age 40 and older because of their age. The case raised the important question of the circumstances under which members of a professional partnership can be considered employees under the ADEA, with important consequences for many professional partnerships under the employment discrimination laws generally. The consent decree provides that for purposes of resolving the matter, the law firm agrees that each person for whom EEOC sought relief was an employee under the ADEA. The decree provides for $27.5 million to be distributed to 32 eligible claimants. The decree prohibits defendant from: (1) terminating, expelling, retiring, or reducing the compensation of a partner because of age; (2) maintaining any formal or informal mandatory partner retirement policy or practice based on age; (3) pressuring a partner to change partnership status or to retire because of age; (4) requiring partners to cease their service on any firm committee (except the Executive or Management Committees), or as a practice group head, because of age; or (5) taking retaliatory action against any person for conduct related to the case or the claims in the case. EEOC v. Sidley Austin, LLP (N.D. Ill.) (resolved Oct. 4, 2007).
A systemic suit against a New York photographic and electronic equipment retailer alleged national origin discrimination against Hispanic warehouse employees with respect to wages, fringe benefits, and promotion. The consent decree, filed simultaneously with the complaint, provides that the company will equalize the wages of Hispanic employees to their non-Hispanic coworkers and will provide $4.3 million in monetary relief to individuals who were paid less, not promoted, or denied benefits because they are Hispanic. EEOC v. B & H Foto & Electronics, Inc. (S.D.N.Y.) (resolved Nov. 29, 2007).
A suit against one of New York's most famous restaurants alleged that the restaurant engaged in severe and pervasive sexual, racial, and national origin harassment of female, black, and Hispanic employees, as well as retaliation. The consent decree provides for a claim fund of $2.2 million to be allocated to 75 victims of the harassment and/or retaliation. Additionally, the restaurant will establish a telephone hotline which employees may use to raise any discrimination complaints, distribute a revised policy against discrimination and retaliation, and provide training to all employees against discrimination and retaliation. EEOC v. Tavern on the Green (S.D.N.Y.) (resolved Jun. 3, 2008).
In a suit against an automobile manufacturer in the Midwest, the EEOC alleged that the company required apprenticeship applicants to pass a pen-and-paper test in order to be placed on an apprentice eligibility "wait list," and that this test had a disparate impact based on race. The EEOC simultaneously filed a court complaint and a consent decree to resolve claims on behalf of a class of African American apprenticeship applicants who were denied opportunities as a result of the discriminatory test. The case was consolidated with a private class action. Under the consent decree, the settlement will provide $1.6 million to 666 claimants and $625,000 in attorneys' fees, and will place 55 class members on the apprentice eligibility "wait list." Pursuant to an earlier settlement of a related case, an industrial organizational psychologist selected by the parties will design and validate an apprenticeship selection instrument(s) consistent with the Uniform Guidelines on Employee Selection Procedures and professional standards within the field of industrial organizational psychology. EEOC v. Automotive Components Holdings, LLC, Visteon Corp., & Ford Motor Co. (S.D. Ohio) (resolved Dec. 20, 2007).
Our Strategic Objective also incorporates the concept that preventing discrimination is an important part of our mission. We briefly describe below some of the key outreach initiatives we conducted in FY 2008 and elaborate on them in the Performance Section of this report.
In FY 2008, we promoted voluntary compliance with the federal equal employment laws to prevent or reduce discriminatory barriers to employment opportunities, including the promotion of individual awareness and understanding of rights and responsibilities under those laws. We provide outreach and education to small businesses, especially those that lack the resources to maintain human resources staff, and to stakeholders in under served communities across the nation, including those with limited English proficiency, such as recently arrived immigrants.
In FY 2009, we will continueour outreach, education, and technical assistance programs to meet the needs of diverse audiences and will partner with the employer community and other stakeholders to foster strategies to recognize and prevent discrimination in the workplace. We remain prepared to respond to unanticipated issues that arise in the workplace due to current events, so that the EEOC stays on the forefront in informing both employees and employers alike of their rights and responsibilities in the ever-changing workplace environment.
The Commission is working cooperatively and collaboratively with the small business community to proactively prevent employment discrimination and to promote voluntary compliance through its Small Business Initiative. We recognize that many small businesses do not have separate human resource and legal staff to guide them through the regulatory process. Therefore, it is important to establish open lines of communication and provide the necessary training and tools to ensure that small employers comply with the law.
We educate students and young workers about their workplace rights and responsibilities, including specific discussions on harassment and how to seek assistance to address or report incidents of discrimination and harassment that occur in the workplace. Through our Youth@Work Initiative, we reach out to schools and educators to share training materials and, as resources allow, develop and present training to teenagers about their workplace rights and responsibilities and assist these young workers as they enter and navigate through the workplace. Furthermore, we provide training and information to businesses that employ young workers to encourage them to proactively address discrimination issues confronting young workers.
In an effort to identify and implement new strategies that will strengthen its enforcement of Title VII and advance the statutory right to a workplace free of race and color discrimination, EEOC developed the E‑RACE (Eradicating Racism and Colorism in Employment) Initiative during FY 2007. In FY 2008, the EEOC continued to identify issues, criteria and barriers that contribute to race and color discrimination, explored strategies to improve the administrative processing and the litigation of race and color discrimination claims, and enhanced public awareness of race and color discrimination in employment.

In the federal sector, the EEOC developed the LEAD (Leadership for the Employment of Americans with Disabilities) Initiative to address the declining number of employees with targeted disabilities in the federal workforce. This national outreach and education campaign includes seminars, educational events and focus group sessions to explore the issue of declining employment for individuals with severe disabilities and identify concrete solutions to address the problem.
The agency educates employers and other members of the public about systemic discrimination, including trends and issues that the agency has identified and cases the agency has handled through its Systemic Program. We recognize the educational and deterrent value of publicizing our court victories, particularly the cases resolving systemic discrimination, because of the ripple effect such decisions can have on promoting changes both across the impacted industry and in related industries. In addition, we issued 675 press releases on our enforcement activities to further raise public awareness and encourage compliance.
The EEOC's management controls and financial management systems were sound during FY 2008, with the exception of 20 findings of financial non-conformances. Seven financial non-conformances were carried over from FY 2007. The financial non-conformances were identified in several audit reports prepared by the Office of Inspector General.
In FY 2008, the agency corrected 16 of the 20 identified financial non-conformances—the seven non-conformances carried over from FY 2007 and nine non-conformances identified in FY 2008. The agency has implemented corrective action plans to resolve the remaining four non-conformances in FY 2009.
Based on the actions taken and taking the agency's controls environment as a whole, the agency concludes that during FY 2008 its financial and management controls systems were in compliance with the Federal Managers' Financial Integrity Act (FMFIA). Eighty percent of the identified non-conformances were resolved during the fiscal year, and it has plans in place to resolve the remaining financial non-conformances in FY 2009. The controls systems were effective; agency resources were used consistent with the agency's mission; the resources were used in compliance with laws and regulations; and, there was minimal potential for waste, fraud, and mismanagement of the resources.
The Office of Management and Budget (OMB) Circular Number A-136 was used as guidance for the preparation of the accompanying financial statements. EEOC prepares four financial statements: the Consolidated Balance Sheets, Consolidated Statements of Net Cost, Consolidated Changes in Net Position, and the Combined Statements of Budgetary Resources. In FY 2007 the Consolidated Statements of Financing was moved to footnote 18 and renamed the Reconciliation of Net Cost of Operations to Budget as outline in OMB Circular A-136. Outlined in the following section are the purpose of each statement, an explanation of any significant amounts, and an explanation of significant fluctuations between FY 2008 and FY 2007.
The Consolidated Balance Sheets present amounts that are owned or managed by EEOC (assets); amounts owed (liabilities); and the net position of the agency divided between the cumulative results of operations and unexpended appropriations.
The FY 2008 cumulative result of operations shows a negative balance. This is due to amounts accumulated over the years by EEOC from financing sources less expenses and losses and an amount representing EEOC's liabilities for such things as accrued leave and actuarial liabilities not covered by available budgetary resources. EEOC's FY 2008 future funded annual leave balances and actuarial FECA liability totaled $27 million.
The Consolidated Statements of Net Cost presents the gross cost incurred by major programs less any revenue earned. Overall, in FY 2008, EEOC's Consolidated Statements Net Cost increased by $14 million or 4%. The allocation of costs for FY 2008 shows that Private Sector resources used for Enforcement and Litigation increased $13 million while the Federal Sector Programs only increased $1 million over the past fiscal year.
The Consolidated Statement of Changes in Net Position represent the change in the net position for FY 2008 and FY 2007 from the cost of operations, appropriations received and used, net of rescissions, and the financing of some costs by other government agencies. The Consolidated Statement of Changes in Net Position decreased over last year by $2 million. EEOC's total asset exceeded total liabilities (funded and unfunded) by $14 million.
The Combined Statements of Budgetary Resources shows how budgetary resources were made available and the status of those resources at the end of the fiscal year. In FY2008, EEOC received a $329 million appropriation, with no rescission. EEOC ended FY2008 with an increase in total budgetary resources of $2 million over last year. Resources not available for new obligations at the end of the year totaled $9 million and $8 million in FY 2008 and FY 2007, respectively. The unobligated balance not available represents expired budget authority from prior years that are no longer available for new obligations.
The line chart below displays a 6-years historical view of EEOC's use of resources. Compensation and benefits consumes the majority of the budget at 69%. The second and third items that have consumed a major portion, of which 8% of the budget were for payments to state and local FEPAs, and rent which also consumed 8% of the budget and are included in non-payroll costs.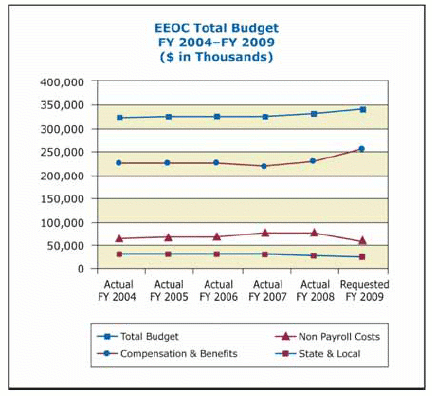 The pie chart displays EEOC's FY 2008 use of resources by major object class. The major portions: Compensation & Benefits, State & Local, and Rent and Utilities. Resources used for Information Technology as well as general operating expenses were consumed at the rate of 13%. Other agency programs (Litigation, ADR contracts, INTAKE and Outreach) were consumed at the lowest rate of 2%. In comparison to last year, compensation and benefits increased 3% over last year's percentage of 66%.
The dual axis chart that depicts EEOC's compensation and benefits versus full-time equivalents (FTE) over the past six years shows an increase in both FY 2008 FTEs and compensation and benefits costs. EEOC's full-time equivalents in FY 2008 increased in part by new-hires hired to replace retiring employees, EEOC's Congressional Budget FTE ceiling increased to 2,556 in FY 2009. EEOC ended FY2008 with 2,166 employees on board. (The current average salary is approximately $106,252, an increase of $14,092 or 13% of the FY 2004 average salary).