PERFORMANCE RESULTS
EEOC implemented its Strategic Plan for FYs 2007 through 2012 at the beginning of FY 2007. The plan describes our overall strategic framework for six years. As noted in the previous section of this report, the agency has since modified the Strategic Plan by revising several areas of the performance structure (see the performance discussion below and the Addendum at the end of this section). These revisions were approved by the Commission on July 28, 2008. This section of the report summarizes the results achieved in FY 2008 for the nine performance measures described in our modified Strategic Plan.
The framework for the modified Strategic Plan in effect for FY 2008 represents an improvement in our overall strategic planning and measurement approach because it is designed to be more results oriented, customer centered, and performance driven. The plan melds our strategic objective, performance measures, and important program initiatives, all of which are integral to the accomplishment of our mission. The graphic presented on page 5 illustrates the integration of these elements, enabling us to achieve and evaluate our results for FY 2008.
The EEOC is the nation's primary enforcer of the civil rights employment laws, which prohibit discrimination on the basis of race, national origin, color, religion, sex, age, disability, and, as of November 21, 2009, genetic information. The agency was created in 1964 for the purposes of resolving charges of employment discrimination and securing relief for victims of discrimination. More than 40 years later, the public continues to rely on the Commission to carry out these fundamental responsibilities and bring justice and opportunity to the workplace. Our fight against discrimination goes beyond enforcing the law. The best way to combat workplace discrimination is to prevent it from happening in the first place. Educating employers and workers about their rights and responsibilities under the law is the first step toward promoting an inclusive workplace, where all workers are judged on their talents and abilities without regard to any protected characteristic.
EEOC's major programs and activities are investigating and resolving charges of discrimination; litigating complaints of discrimination; conducting hearings, resolving appeals of discrimination complaints and promoting equal employment opportunity in the federal workplace; and educating the public about its rights and responsibilities. All of these programs and activities are done in the service of four shared goals:
remedying and deterring unlawful employment discrimination;
increasing public confidence in the fair and prompt resolution of employment discrimination disputes;
increasing voluntary compliance with the federal equal employment laws; and
increasing individual awareness and understanding of rights and responsibilities.
The modified Strategic Plan addresses many of the areas raised in the Office of Management and Budget's (OMB) Program Assessment Rating Tool (PART) review of the agency in 2006. The PART review resulted in a rating for the agency of Results Not Demonstrated, primarily because OMB determined that the agency's approach, reflected in its former Strategic Plan, was insufficient to measure performance.
The new measurement structure and approach developed during our PART review is expected to enable us to enhance our program and the services we deliver to the public. The improvement plan developed with the PART focuses on three broad areas: 1) identifying and implementing challenging annual targets and final outcome goals for all agency performance measures; 2) developing in collaboration with its state and local partners methods for measuring performance that supports the agency's goals; and 3) continuing to implement structural changes and other recommendations to improve efficiency and effectiveness of the program.
During fiscal years 2007 and 2008, we began to address all three elements in our PART improvement plan. The Strategic Plan we issued at the beginning of fiscal year 2007 addressed the first element of the improvement plan. We subsequently engaged in extensive agency reviews of the performance structure and performance measures that were initially included in the agency's PART evaluation and our Strategic Plan. Our reviews resulted in several adjustments that modified the Strategic Plan. These modifications are included in the current performance measurement structure graphically displayed on page 5. (Also, see the Addendum at the end of this Performance Results section.) On July 28, 2008, the Commission approved the current configuration of the Plan, including adjustments to some performance measure baselines and annual targets, which are explained under the relevant measures in the following pages.
During this time, we also have been working extensively with the FEPAs to identify one or more forms of measurement that will reflect their contribution toward achieving EEOC's strategic goal and its mission. To ensure collaboration in developing a measure, during fiscal year 2007 we established and tasked a joint EEOC/FEPA Work Group with identifying potential functions to measure. The Work Group was comprised of both EEOC staff and representatives from several FEPAs around the country. The Work Group, in developing its final recommendation, took into consideration information received from many of the FEPAs in response to the Work Group's initial draft proposal as well as discussions and presentations during the annual FY 2008 EEOC/FEPA Conference. The Work Group's final recommendation is pending review and approval at this time.
Our performance structure will enable us to strive toward meeting the goals and measures we have adopted, which include our two long-term performance measures, six annual performance measures, and one efficiency measure in our modified Strategic Plan for FYs 2007 through 2012.
Long-Term/Annual Measure 1
By FY 2012, the number of individuals benefiting from improvements to organizations' policies, practices and procedures because of EEOC's enforcement programs increases by 20.2%.
FY 2007
FY 2008

Target

Establish Baseline

2%

Result

1,626,000 individuals

222.9%

Exceeded Target
We believe it is important to measure our success by looking beyond the monetary and equitable relief we secure through our enforcement actions. Our Long-Term/Annual measure focuses on tracking the improvements that are made in the workplace as a direct result of our enforcement programs. We selected this measure because, when we secure changes in employment policies, practices and procedures through our enforcement programs, we have a positive impact not only on the immediate victims of discrimination, but also on all individuals in the affected workplace. Through organization-wide changes, individuals benefit from a more inclusive workplace and have greater opportunities to compete on a level playing field. With the agency's renewed emphasis on combating systemic discrimination, we expect to make significant increases over time in the number of individuals who benefit from our enforcement activities.
The Long-Term/Annual Measure was developed to focus on all enforcement services we provide to the public that result in workplace benefits. These results include benefits from administrative resolutions (including mediation), litigation resolutions, and federal sector hearings and appeals resolutions. Beginning in fiscal year 2005, we began collecting data on the number of individuals benefited through private sector administrative resolutions (including mediations) only. Based on that experience, we adapted the same data collection approach for all of our enforcement programs and established annual targets and our final goal for fiscal year 2012.
Enforcement resolutions from our administrative charge processing, litigation, and federal sector hearings and appeals programs benefited approximately 5.25 million individuals in FY 2008, or a 222.9% increase over our FY 2007 baseline number of 1.626 million individuals benefited. Our annual target for FY 2008 was a 2% increase over our baseline or approximately 1.658 million individuals. We greatly exceeded the target for several reasons.
This measure was developed during our OMB PART review and was included in the agency's new Strategic Plan issued at the beginning of FY 2007. We subsequently established annual targets and a final goal based on our limited experience with the data we had already been collecting for several years for our administrative charge processing program. It was important to include all of our enforcement programs in the measure, but it was difficult to estimate their effect on the final results. In addition, there was the strong possibility that one or two large enforcement actions against a nationwide entity could affect the results in a significant way in any one year. For example, in FY 2008 two large resolutions—one in our administrative charge program and another in our federal sector hearings program—contributed extensively to this year's results. Approximately 51% of the total number of individuals benefiting from our enforcement programs in FY 2008 was from these two resolutions. If the number of these individuals were removed from the total, we benefited approximately 2.547 million individuals, or about a 56.6% increase over our FY 2007 baseline. This is still a significant increase over the previous fiscal year and over our target for FY 2008.
Our FY 2009 annual target for this measure is to increase the number of individuals benefiting from improvements to organizations' policies, practices and procedures by 10% over the FY 2007 baseline. Although our FY 2008 results were substantially above that level, we will retain the current target levels for now, so that we can use the results for at least one more year before reevaluating them.
Efficiency Measure
By FY 2012, the number of individuals benefiting from improvements to
organizations' policies, practices and procedures because of EEOC's enforcement
programs for each agency FTE increases by 11.7%.

FY 2007
FY 2008

Target

Establish Baseline

1.8%

Result

753.5 individuals per FTE

220.2%

Exceeded Target
Enhancing the number of working people who benefit for each agency Full-Time Equivalent (FTE) position demonstrates our efficiency, because over 70% of the agency's budget is dedicated to compensation and benefits. This entirely new area of measurement relies on the number of individuals benefited by our enforcement programs, which are collected for Long Term/Annual Measure 1. As noted in connection with that measure, during FYs 2007 and 2008, we also identified annual targets and established our final goal for fiscal year 2012.
The correlation to our FTE level is appropriate as it recognizes that our staff are the direct contributors to positive change in the workplace and because staff levels are susceptible to change. We believe that this measure will be a compelling indicator of the efficiency of our operations.
The agency had 2,176 Full-Time Equivalent positions at the end of FY 2008. Approximately 5.25 million individuals benefited through our enforcement programs (as reported for Long Term/Annual Measure 1), because of improvements to policies, practices or procedures. Therefore, approximately 2,412.7 individuals benefited for every FTE. This was an increase of 220.2% over the FY 2007 baseline, compared to our 1.8% target increase for FY 2008. Absent the two large case resolutions discussed in the previous measure, 1,170.5 individuals benefited for each FTE; or a 55.3% increase over the FY 2007 baseline. Our FY 2009 target is to achieve a 2.2% increase over the baseline. Although our increase for FY 2008 was substantially above this target, as we similarly noted under Long Term/Annual Measure 1, we will retain the current target levels and reevaluate them after another year of data.
Long-Term Measure 2
By FY 2012, the public rates its confidence in EEOC's enforcement of
federal equal employment laws at 65% or higher.

FY 2007
By the End of FY 2010

Target

Establish Baseline

63%

Result

61%

Measure in FY 2010

Met Target (Baseline Established)
If the public is aware of our enforcement activities and believes that we have handled discrimination complaints effectively, they will be more likely to rely on us to investigate, mediate, litigate, adjudicate a federal complaint, and otherwise resolve allegations of discrimination. Additionally, if the agency's reputation is one of a fair and responsible enforcer of the civil rights employment laws, then employers, attorneys and other members of the public will be more likely to defer to our assessment of discrimination complaints and commit to voluntary compliance through mediation, settlement or conciliation.
To measure the public's confidence in the agency's enforcement of the federal equal employment opportunity laws, the agency engaged a reputable private organization to conduct a survey in fiscal year 2007 of a representative sample of individuals nationwide. From that survey, we were able to establish a baseline value for fiscal year 2007, and a two-staged multi-year approach to reach a final goal by fiscal year 2012.
The agency previously identified a lower percentage value as its 2007 baseline from the survey results and initially established lower multi-year targets. During fiscal year 2008, the agency re-evaluated the responses from the survey participants and the methodology used to estimate the baseline value for this measure. As a result of this re-evaluation, the agency adjusted its baseline and its targets/final goal to indicate that more respondents to the survey reflected confidence in EEOC's enforcement of the laws it enforces. The Commission approved the modified approach with its July 28, 2008, vote on the Strategic Plan. (A further explanation is provided in the Addendum at the end of this section.) Improvements in confidence will be measured in multi-year intervals to provide enough time to be able to measure reasonable changes in the nationwide results. In addition to the efforts to achieve the six Annual Measures, below, which are linked to improvements in the public's confidence in EEOC's enforcement efforts, we anticipate engaging in other initiatives that will influence this measure. We will conduct a survey during fiscal year 2010 to measure any change in the nationwide results for this measure. Consequently, the agency currently has met its target for this measure with the establishment of the baseline value. We will obtain new results when we conduct a follow-up survey in FY 2010.
Annual Measure 2.1. At least 54% of private sector charges are resolved
in 180 days or fewer by FY 2012.

FY 2004
FY 2005
FY 2006
FY 2007
FY 2008

Target

65.0%

70.0%

70.0%

72.0%

48.0%

Result

67.1%

65.9%

60.7%

55.7%

48.5%

Exceeded Target
Annual Measure 2.2. At least 54% of federal sector hearings are resolved
in 180 days or fewer by FY 2012.

FY 2004
FY 2005
FY 2006
FY 2007
FY 2008

Target

35.0%

38.0%

50.0%

50.0%

50.0%

Result

32.8%

51.3%

43.6%

42.8%

38.6%

Not Met Target
Annual Measure 2.3. At least 70% of federal sector appeals are resolved
in 180 days or fewer by FY 2012.

FY 2004
FY 2005
FY 2006
FY 2007
FY 2008

Target

45.0%

50.0%

55.0%

60.0%

62.0%

Result

51.8%

52.0%

59.7%

60.7%

63.3%

Exceeded Target
Annual Measures 2.1, 2.2, and 2.3 focus on the resolution of private sector charges, federal sector hearings, and federal sector appeals. We have established final goals for fiscal year 2012 for all of these measures, as reflected in the modifications made to this Strategic Plan. In recognition of the maxim that justice delayed is justice denied, these measures ensure the timely resolution of complaints in each of our major complaint handling activities.
The goal of resolving private sector charges within 180 days is important to containing the overall average charge processing time. The Commission approved modifications to the agency's Strategic Plan, which resulted in revisions to the annual targets and final goal for Annual Measure 2.1 based upon several compelling reasons; such as, dramatically increasing workload, declining staff and increased statutory responsibilities (see the Addendum at the end of this Performance Results section for additional information). The agency moderately exceeded its modified FY 2008 target at 48.5%. Our annual target for FY 2009 and FY 2010 will remain at 48%, as we increase our efforts to maintain this level of timely service and the quality of our investigations with fewer staffing resources to handle the growing inventory of charges (see our results for Annual Measure 2.4, below).
Annual Measure 2.2 addresses the resolution of federal sector hearings within 180 days. Although the targets and final goal reflects the agency's commitment to continue the timely handling of federal sector hearings, our results compared to the annual targets have been difficult to maintain since FY 2006, when the target rose to 50%. The annual target remains 50% through FY 2009 and then rises from 52% for FY 2010 to 54% as a final goal for FY 2012. Our efforts to achieve this goal have become more difficult because of increasing workloads and decreasing staff, as well as greater attention being focused on enhancing the quality of hearings. For FY 2008 we resolved only 38.6% of the hearings within 180 days or fewer. We will renew efforts to achieve next year's 50% target and prepare for the future increases in the targets for this measure.
Annual Measure 2.3 addresses the resolution of federal sector appeals within 180 days or fewer. The annual targets for this measure have consistently increased and the agency has been able to achieve them every year. FY 2008 was another successful effort where the agency resolved 63.3% of its appeals within 180 days or fewer, exceeding our target of 62%. The target for FY 2009 increases by 2 percentage points to 64%. We will continue to increase the proportion of appeals resolved within the time frame, as we move toward our 70% final goal in FY 2012.
Annual Measure 2.4. At least 93% of investigative files meet
established criteria for quality by FY 2012.

FY 2004
FY 2005
FY 2006
FY 2007
FY 2008

Target

Define quality criteria & develop information collection system.

Establish FY 2005 baseline & targets for FY 2006–2009.

87.0%

88%

90%

Result

Defined criteria & developed collection system.

Established Baseline (88.5%) & targets.

88.1%

93.5%

97.0%

Exceeded Target
Annual Measure 2.4 ensures that investigative files meet quality standards. As reflected in the modifications, we also established a final goal for this measure. Quality is determined by a large proportion of sampled investigative files reviewed meeting two critical quality criteria: 1) the appropriate charge categorization and file documentation supports the actions taken; and, 2) the resolution of the charge is supported. This measure is intended to ensure that we do not complete our work quickly at the expense of performing our work well. The annual targets for this measure have increased since the baseline was established in FY 2005 and we have exceeded these targets each year. FY 2008 is another year we exceeded the target. Although we are retaining the 90% target for FY 2009, we have increased the annual targets by 1 percentage point each year from FY 2010 to FY 2012.
Annual Measure 2.5. At least 95% of respondents and charging parties report confidence in EEOC's private sector mediation/ADR program by FY 2012.

FY 2004
FY 2005
FY 2006
FY 2007
FY 2008

Target

90%

90%

90%

90%

91%

Result

95.6%

96.3%

96.8%

95.8%

96.5%

Exceeded Target
Annual Measure 2.5 focuses on the EEOC's mediation/ADR program. We recognize that the public's confidence in our mediation program has a significant impact on its perception of the EEOC as a whole. We obtain results for this measure by surveying participants in EEOC's mediation program and tabulating responses about their confidence in using the program. This measure has been used by the agency since 2004, so we have significant trend data upon which to base our targets. The confidence level in this program is consistently high. With the recent approval of the Strategic Plan, which significantly increased the final goal, the Commission recognized the need to enhance the results for this measure because a high level of confidence helps to convince participants, particularly company representatives, of the value of alternative dispute resolution. The Commission year-end results of 96.5% of the respondents and charging parties reporting confidence in EEOC's ADR program exceeded the increased FY 2008 target of 91% for this measure.
Annual Measure 2.6. At least 90% of EEOC lawsuits are successfully
resolved during the period ending in FY 2012.

FY 2004
FY 2005
FY 2006
FY 2007
FY 2008

Target

90% or higher
6-year rolling average

90% or higher
6-year rolling average

90% or higher
6-year rolling average

90% or higher
3-year rolling average

90% or higher
3-year rolling average

Result

92.2%

92.8%

92.7%

91.5%

91.2%

Exceeded Target
Annual Measure 2.6 places a premium on maintaining the high level of successful resolutions in our litigation program. Successful resolutions include cases decided by favorable court order and those concluded through a consent decree or a settlement agreement in litigation. Achieving success on this measure will ensure that we continue to exercise our prosecutorial discretion responsibly, while allowing us to take on challenging issues and litigate complex cases, including cases of systemic discrimination. As our systemic litigation program continues to develop, this measure remains significant and ambitious because the achievement of success in systemic cases is challenging and resource-intensive. This year, we exceeded our goal with a 91.2% litigation success rate based on the results of a three-year weighted average (FYs 2006 to 2008). The success rate for FY 2008 alone was 92.0%. We are continuing this ambitious target in FY 2009.
For several years, the EEOC has attained the goal set forth in its Strategic Plan of maintaining at least a 90% success rate in lawsuit resolutions. Because the majority of lawsuits are resolved through settlement, this performance measure does not describe EEOC's results in cases adjudicated by a judge or jury. As in this fiscal year, the Office of General Counsel conducted a review of the cases adjudicated to final decision by a judge or jury over the past five years, from FY 2003 through FY 2007. We also reviewed the results for private plaintiffs represented by counsel in employment discrimination cases adjudicated by a judge or jury in the federal courts, using data compiled by the Administrative Office of the United States Courts.
Our review focused on the results for two separate types of outcomes, both at the district court level: 1) non-trial adjudications (i.e., cases resolved by court orders such as summary judgment and dismissals); and 2) trial results.
Our review showed that:
For private plaintiffs represented by counsel, 13.2% of all case resolutions were losses through non-trial adjudications; for EEOC, 5.9% of all case resolutions were losses through non-trial adjudications. (These figures treat voluntary dismissals with prejudice as settlements for private plaintiffs, because that is how most private settlements occur, but as non-trial adjudication losses for EEOC, because the agency never settles out of court.)
In cases decided at trial, private plaintiffs who were represented by counsel won 38.3% of all trials; the EEOC won 50.8% of all trials.
The table below illustrates the results of our review in more detail.
Comparison of Success Rates in U.S. District Courts,
Private Federal Employment Discrimination Cases to EEOC Enforcement Suits

Federal employment discrimination cases w/ represented plaintiffs excluding U.S. as plaintiff (2003-2007)
EEOC enforcement suits
(FY 2003-2007)

Non-trial adjudications lost by plaintiff as a percentage of all case resolutions

13.2%
(9.068/68,782)

5.9%
(103/1,754)

Trial wins for plaintiff as a percentage of all trials

38.3%
(809/2,110)

50.8%
(31/61)
This review is intended to provide context for the data on EEOC litigation results. It is not intended to represent that the differences in results are statistically significant, and it attempts no judgment on the reasons for the different outcomes.
In the future, we plan to perform a similar comparative review of data at the appellate court level, focusing on the reversal rate for plaintiff wins and the reversal rate for defendant wins. Our internal data shows that in EEOC cases where there was a decisive outcome on appeal in the period from FY 2003 to FY 2007:
An appellate court reversed or remanded EEOC wins in two out of 12 cases.
An appellate court reversed defendant wins in 19 out of 35 appeals in cases brought by EEOC.
As in last fiscal year, we reviewed the content of our litigation docket to determine whether our case filings were representative of the categories of claims we are charged with enforcing. To maintain a balanced litigation program, we seek to enforce the law actively with respect to each of the categories protected by the statutes under our charge. The figure below illustrates the number of cases filed in fiscal year 2007 containing allegations with respect to each of the protected categories for which we have litigation authority. (Note that the total number of allegations represented in this chart exceeds the total number of cases filed because many cases contain multiple allegations. Refer to www.eeoc.gov for additional statistics on suit filings and resolutions.)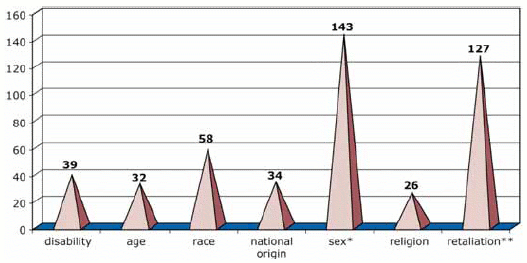 *Of these 143 sex discrimination suits, 87 suits contained claims of sexual harassment.
**Of these 127 retaliation suits, 100 suits contained claims under additional bases.
Because of statutory prerequisites for our litigation, a further analysis is necessary to evaluate our case-selection decisions. Under Title VII, the ADA, and the ADEA, the EEOC must make efforts to resolve violations through informal conciliation before filing suit. For those statutes, only cases in which conciliation efforts have failed comprise the pool of potential litigation vehicles for the Commission. We looked at the number of conciliation failures in some typical categories of our litigation to determine whether our suit filings were reflective of the pool of available cases. We focused on five representative types of cases subject to a conciliation requirement: race/black, sexual harassment, national origin/ Hispanic, age and disability. We calculated the percentage of each type of case filed compared to the total number of suits filed and also calculated the percentage of conciliation failures under each of these case-types compared to all conciliation failures (using FY 2007 data). The figure below illustrates these comparisons: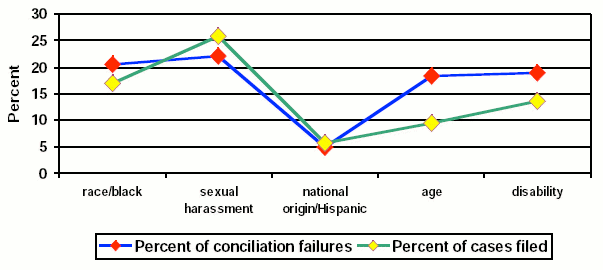 This review reveals that our selection of race/black, national origin/Hispanic, and sexual harassment cases for litigation was comparable to their respective share of the cases available to consider for litigation after conciliation efforts failed. We also note that, to the extent that our selection of sexual harassment cases for litigation exceeded the percentage of these charges available for litigation, most of our sexual harassment cases achieve a high impact by seeking relief for multiple victims of discrimination. Our selection of age and disability cases for litigation was lower than the availability of these cases for litigation. This finding provides us with a useful tool to explore ways in which we can increase the representation of these types of cases on our docket. Overall, these results demonstrate that we are maintaining a docket that is reasonably representative of the categories of claims we are charged with enforcing.
The Commission's PART improvement plan includes an initiative for the agency to develop, in collaboration with its state and local partners, the Fair Employment Practices Agencies (FEPAs), methods for measuring FEPA performance that support the agency's mission and goals. Throughout fiscal years 2007 and 2008, we have engaged in efforts with the FEPAs and have recommended measures, currently under review, that will focus on the contributions made by the many FEPAs nationwide to the achievement of EEOC's goals. Once the recommended measurement approach is approved, data will be collected and analyzed in order to establish annual targets and a final goal. This cooperative effort with the FEPAs will enhance our relationships and our mutual interests in improving the enforcement of our respective employment discrimination laws.
In the Management's Discussion and Analysis Section of this report, we briefly described many other performance initiatives we initiated or continued in FY 2008. Each is described in more detail below.
Outreach: The Commission's outreach programs reached 270,298 persons. EEOC offices participated in 5,360 educational, training, and outreach events. This is a decrease in the number of events over the same period in FY 2007, when there were 5,658 events.
Our offices distributed information materials on EEO laws and represented the Commission at 715 other public events that reached 49,202 people. These events included information booths at job fairs, conventions, cultural expositions, and conferences. Informational materials were distributed through participation in many community organization meetings to 49,783. We also made 617 media presentations, including newspaper, radio and TV interviews, talk shows, and press conferences that provided substantive EEO information to millions of stakeholders.
Our outreach, education and technical assistance efforts focus on increasing voluntary compliance with federal equal employment laws and on improving the individual awareness of a person's rights and responsibilities.
Mediation Outreach: In FY 2008, EEOC offices conducted 262 outreach events directed toward the private sector employer community to promote our mediation program. Events included workshops, mock mediations, and panel discussions with employer representatives, as well as representatives from the plaintiff and defense bar.
Small Business Outreach: The Commission is working cooperatively and collaboratively with the small business community to proactively prevent employment discrimination and promote voluntary compliance. We recognize that many small businesses do not have separate human resources and legal staff to guide them through the regulatory process. Therefore, it is important to establish open lines of communication and provide the necessary training and tools to ensure that small employers comply with the law. EEOC offices conducted 724 outreach events directed toward small businesses in FY 2008, reaching 35,515 small business representatives. The most popular topics for small business audiences were an overview of the laws enforced by EEOC, charge processing procedures, sexual harassment, Title VII and the ADA.
Federal Sector Outreach: In FY 2008, OFO rolled out a new program designed to give analytical assessment/feedback of MD-715 model EEO program elements. This endeavor, the EEO Program Compliance Assessment (EPCA) is a type of scorecard in which OFO provided workforce analyses based on race, national origin, gender and targeted disabilities. These analyses show how the particular agency's workforce is composed by major occupation and compare it to the civilian labor force, provide an odds ratio analysis on promotions in the senior grade levels, and show agencies how they compare to the federal government as a whole on various climate and other issues. Our intention is to provide new and useful ways for agencies to look at their data and to provide a benchmark upon which each agency can measure its progress toward becoming a model EEO workplace. In addition to EPCA, OFO intends to continue its practice of providing trend-analysis feedback on a rotating basis. In FY 2008, a key strategy in our efforts to be more responsive to our federal sector customers was the continued development of our relationship management pilot. This initiative was first piloted in FY 2004, and was modeled after the private sector's approach to customer service. The pilot has evolved and expanded to bring Commission personnel together with EEO staff in eleven agencies in a consultative partnership to improve customer service and relationships, and to successfully implement the essential elements of MD-715's model EEO program. In addition to these activities, OFO is conducting onsite reviews of five agencies with high under representation of racial minorities at the SES level and is conducting an onsite review of another agency to investigate a spike in retaliation complaints.
Education, Technical Assistance and Training:
EEOC Training Institute: The EEOC Training Institute, formerly named "the Revolving Fund," is a separate statutory authority that enables the EEOC to offer in-depth and specialized programs to supplement those general informational and outreach activities that are an ongoing aspect of the EEOC's mission. The Training Institute offers diverse, high quality, reasonably priced EEO expertise and training products to private sector employers, state and local government personnel, and employees of federal agencies. In FY 2008, the Training Institute trained over 29,000 individuals from the private sector, local, state, and federal government at more than 900 events. In FY 2008, the Training Institute offered five product/service lines, which we expect to continue to provide in the future.
Direct-Sale Training Products: The Training Institute also develops low-cost direct-sale training products and resource materials to foster the agency's overall training and technical assistance statutory responsibilities. We will be expanding our product line during FY 2009 to include other training materials that address the changing needs of our customers, such as Webinars and hearings preparation training.
Technical Assistance Program Seminars (TAPS): The one- and two-day TAP Seminars offered by the Training Institute are responsive to employers' information and training needs and allow EEOC to educate substantially more employers and employees about how to identify, prevent and eliminate workplace discrimination. In FY 2008, 44 TAPS were conducted throughout the country with 6,693 participants. This number is slightly higher than the 6,666 people who participated in TAPS in FY 2007, even though one TAPS seminar had to be cancelled due to an evacuation of the host city for catastrophic weather.
Training FEPAs: Training FEPAs nationwide was a major project continued by the Training Institute in FY 2008. FEPAs nationwide were offered two different courses targeted specifically for their investigative staff. A total of 23 separate training sessions were delivered which were conducted at three different locations nationwide with the offering of two full days of Race, Color and Religious Discrimination Training. Additionally, three sessions of new investigator training were conducted. Over 550 staff representing 70 FEPAs attended sessions for this training. FEPA training is planned for FY 2009.
National Federal Sector Conference: An annual national federal sector conference, the Examining Conflicts in Employment Laws (EXCEL) Conference, has become a widely anticipated and highly acclaimed event for federal EEO managers, attorneys, union officials, EEO professionals and EEO staff. The FY 2008 conference held in Chicago, Illinois, last August marked the 11th anniversary of the popular event—attracting more than 1,000 attendees. There were several "firsts" at this year's conference, including a Weblog (blog) that was updated from the conference floor; the first Hispanic Employment Managers' Summit, which was presented as a partnership with the National Council of Hispanic Employment Program Managers; and, presentations that were made by leaders of the recently formed Asian American Pacific Islander (AAPI) and Hispanic Work Groups.
Customer Specific Training: The Customer Specific Training Program trains employees, managers, supervisors and human resource professionals from large, mid-size and small employers on their EEO responsibilities and how to prevent and correct workplace discrimination. Standardized courses are available or we design customized courses that are delivered at employers' worksites.

E-RACE (Eradicating Racism and Colorism from Employment): EEOC unveiled the E-RACE Initiative in February 2007. Race discrimination is the most frequent type of charge filing with the EEOC, a historical trend dating back to the agency's opening in 1965. In FY 2008, 33,929 charges of race discrimination were filed with EEOC offices nationwide, accounting for 35.6% of the agency's private sector receipts. The E-RACE Initiative is designed to improve EEOC's efforts to ensure workplaces are free of race and color discrimination. Specifically, the EEOC will identify issues, criteria and barriers that contribute to race and color discrimination, explore strategies to improve the administrative processing and the litigation of race and color discrimination claims, and enhance public awareness of race and color discrimination in employment. As part of the E-RACE initiative, offices conducted 1,416 events reaching 58,183 individuals. More information about the E‑RACE Initiative is located on EEOC's website at http://www.eeoc.gov/initiatives/e-race/index.html.
Freedom to Compete Initiative: Launched in 2002, the EEOC's Freedom to Compete Initiative is a national outreach, education and partnership campaign designed to recognize and reward specific practices that produce results and reflect a commitment to access and inclusion in the workplace.
Youth@Work: In FY 2008, the EEOC built on the success of its Youth@Work Initiative to educate young workers about their workplace rights and responsibilities. Over the past four years, EEOC offices nationwide have hosted or participated in more than 4,000 events to educate teenage employees and their employers about workplace discrimination and harassment. We have reached more than 250,000 high school students, parents, teachers, and employers—arming them with the information they need to create positive first work experiences for our young adults.

The Youth@Work website (www.youth.eeoc.gov) is dedicated to educating young workers about their equal employment opportunity rights and responsibilities. The website explains the different types of job discrimination that young workers may encounter and suggests strategies they can use to prevent and, if necessary, respond to such discrimination. The site includes an interactive tool called "Challenge Yourself!" that provides an opportunity for young workers to test their knowledge by analyzing sample job discrimination scenarios. The site, created with the assistance of EEOC student interns, also includes examples of recent cases involving workplace harassment of young workers. A Spanish-language version of the website debuted in June 2005 at www.youth.eeoc.gov/es.
In FY 2008, we conducted 1,248 events to educate teenage employees and their employers about workplace discrimination and harassment, reaching 62,797 high school students, parents, teachers, and employers. These events, which include information about the laws enforced by EEOC and the rights and responsibilities of employers and employees, are aimed at assisting young workers, as they enter and navigate the professional world, and encouraging employers to proactively address discrimination issues confronting young workers.

LEAD Initiative: The over-arching goal of the LEAD Initiative is to significantly increase the population of individuals with disabilities employed by the federal government—currently less than 1%. This national outreach and education campaign is designed to:
Increase the awareness of federal hiring officials about the declining numbers of people with disabilities in federal employment;
Reverse the trend of decreasing participation in federal employment;
Educate federal hiring officials about how to use special hiring authorities to bring people with disabilities on board, particularly those with severe disabilities;
Educate applicants with severe disabilities about how to apply using the special hiring authorities available; and
Provide information and resources on reasonable accommodation.
In FY 2008, the LEAD web pages were further updated. Resources related to recruitment, hiring, and accommodations, as well as links to several federal programs designed to assist individuals with disabilities in finding employment have been added. The website, available at http://www.eeoc.gov/initiatives/lead/index.html, also includes program tips agencies can adopt to increase the participation of individuals with disabilities in the federal workforce.
New Freedom Initiative: On February 1, 2001, President George W. Bush announced his New Freedom Initiative (NFI), a comprehensive strategy for the full integration of individuals with disabilities into all aspects of America's social and economic life. EEOC has played a critical role in furthering one of the NFI's primary goals—increased access to the workplace for individuals with disabilities.
Since 2002, EEOC has issued a number of technical assistance documents for employers and people with disabilities. Among these documents have been six that have addressed the ADA's application to particular types of disabilities—diabetes, epilepsy, cancer, intellectual disabilities, blindness and vision impairments, and deafness and hearing impairments. The Commission has also released three documents that discuss how the ADA applies to specific industries. In prior years, we issued a guide for restaurants and other food service establishments, a document on reasonable accommodations for attorneys with disabilities, and a publication for the health care industry.
In February 2008, we issued two documents—one for employers and one for veterans—explaining how the ADA applies to veterans with service-connected disabilities who are seeking to return to work or who are applying for their first job. Among the topics discussed in the document are differences between the ADA and the Uniformed Services Employment and Re-Employment Rights Act (USERRA), how the ADA applies to employers who want to engage in affirmative hiring of veterans with disabilities, and types of reasonable accommodations that veterans with disabilities might need. In September 2008, we issued a question-and-answer document on how the ADA applies to performance and conduct standards, in response to inquiries we have received indicating that there is still confusion about how the law affects these fundamental personnel rules.
Regulations, Enforcement Guidance, and Technical Assistance: EEOC regulations and enforcement guidance represent the Commission's official positions on a range of issues that arise under the employment discrimination laws. They aid EEOC investigators and attorneys who enforce the laws through charge investigation and litigation, are looked to by many courts when resolving novel legal issues, and inform employers and individuals protected by the laws EEOC enforces of their legal rights and responsibilities. EEOC also publishes technical assistance documents, which promote awareness of and voluntary compliance with, the EEO laws. They provide the public with explanations of the laws that are easy to understand and that avoid excessively technical or legalistic language. Technical assistance documents do not establish new EEOC policy. They apply existing policy in specific contexts to promote better understanding of EEOC policy.
In December 2007, the Commission finalized a rule creating an exemption from the ADEA for employers to coordinate retiree health benefits with Medicare-eligibility. The rule allows employers to continue their long-standing practice of providing reduced or no benefits to retirees who are eligible for Medicare (i.e., 65 or older) without violating the ADEA. Although the Commission voted to approve the rule in April 2004, it could not be finalized until December 2007, due to a lawsuit seeking to block its implementation. This litigation ended when the Supreme Court refused to grant certiorari from a decision in EEOC 's favor by the Court of Appeals for the Third Circuit.
On July 22, 2008, the Commission issued a new Compliance Manual Section on Religious Discrimination. The new Section addresses: what constitutes "religion" within the meaning of Title VII; disparate treatment based on religion; the requirement to reasonably accommodate religious beliefs and practices; religion-based harassment; and retaliation. The Section also provides guidance on the sometimes complex workplace issues involved in balancing employees' rights regarding religious expression with employers' need to maintain efficient, productive workplaces. The number of religion charges filed with the Commission increased 100% from 1992 to 2007, including a 13% increase last year to 2,880 charges. As a result, we have seen a dramatic increase in inquiries from our investigators regarding religious discrimination issues, have increased our litigation of religious discrimination claims, and have expanded our outreach activities regarding the religious discrimination requirements of Title VII in response to a vast increase in the number of inquiries on religion and the workplace from the press and from employers.
We are constantly seeking ways to achieve organizational excellence by improving our organizational capacity and infrastructure through sound management of our resources—human, financial and technological. Maximizing effective use of our resources is essential to achieve our enforcement and outreach goals and to carry out our mission. Only through organizational excellence, can we rise to challenges and achieve the ambitious measures of success set out in our Strategic Objective.
Creating a better organization is an important step to becoming more effective. EEOC has undertaken three initiatives to reposition the agency to better serve the public.
In fiscal year 2008, the EEOC continued the activities initiated in FY 2007 to transfer the National Contact Center function to the newly created in-house operation—the Intake Information Group—located in 15 of our field offices.
Secondly, in January 2006, EEOC repositioned its field structure. The repositioned structure allows for expanded presence, flattening of overall management structure, and a more logical alignment of our offices.
The third phase, still under development, may encompass the restructuring of our Headquarters functions to better support our field operations.
Through all of our repositioning efforts, we aim to align strategically our workforce for greater effectiveness and efficiency by streamlining functional responsibilities, broadening the spans of control, reducing layers of management, dedicating greater resources to our front-line functions and addressing competency gaps.
File Disclosure Workload and Initiative
The agency processes about 16,000 Freedom of Information Act (FOIA) requests each year. In fiscal year 2008, the agency consolidated under its district directors the file disclosure function for responding to FOIA and other requests and implemented a new program pursuant to an A-76 study that will help ensure agency compliance with Executive Order 13392: Improving Agency Disclosure of Information (2005). These steps will also improve the utilization of litigation personnel who were previously performing some records disclosure activities. The graph below shows the number of FOIA requests received, processed and remaining at the end of the fiscal year for four years and estimates for seven years in the future.
The agency continues to improve its strategic management of human capital by completing key components of its strategic human capital management plan by:
Considering both workforce analysis and workforce planning as part of program management and the annual budget process;
Refining the performance management system for executives, for managers and supervisors, and for non-supervisory employees, effectively linking performance with the agency's mission and goals;
Presenting a Leadership Succession Management Plan Framework to the Executive Resources Board and submitting a proposal for a senior management development program. The proposal will be reviewed by the Senior Executive Service Advisory Council;
Participating in the Office of Personnel Management's (OPM) Federal Competency Assessment Tool—Management (FCAT-M) project to assess leadership and performance management competencies in our managers and supervisors and inform our leadership succession management plans;
Coordinating the FY 2008 OPM Federal Human Capital Survey to EEOC employees to identify employee satisfaction with human capital management and developing action plans based on an analysis of feedback;
Improving the hiring process by exceeding Office of Personnel Managements (OPM) benchmark of 45 days from close date of vacancy announcement to date of offer; and
Launching the "Can We Talk?" diversity dialogues to provide employees with the knowledge, skills and tools to be able to identify, constructively confront and modify divisive or inappropriate behavior related to EEO factors and other characteristics that often have an impact on employees' ability to work together.
Information Technology
The EEOC's Information Technology (IT) program in FY 2008 focused on implementing mandatory initiatives, such as the Federal Desktop Core Configuration, Homeland Security Presidential Directive Number 12 (HSPD-12), and Internet Protocol version 6 (IPv6) testing. In addition, EEOC enhanced existing information systems to support the E-RACE initiative, new Freedom of Information Act reporting requirements, systemic enforcement activities, and internal reporting needs. We increased on-demand training materials, implemented full function Google enterprise electronic search appliance and expanded the "Know IT" intranet knowledge-base to support EEOC enforcement and litigation activities.
Also during FY2008, the EEOC deployed online filing capacity for the Electronic Assessment System (EAS) which allows a member of the public, through the EEOC website, to submit a completed questionnaire electronically and have the information populate into EEOC's Integrated Mission System (IMS). The IMS consolidates our mission data on charge intake, investigation, mediation, litigation, and outreach functions into a single shared information system. The new electronic filing process has reduced the data entry burden of manually inputting most information from the intake questionnaires into the IMS.
As we approach FY 2009, the focus will be on preparing for the Headquarters relocation and subsequently, the life cycle replacement of end-user devices. Requested funding for FY 2010 will allow the agency to provide frontline employees with collaboration and case management tools required to improve timeliness, reduce the inventory and enable enforcement and litigation of systemic cases.
Office Relocations, Rightsizing, and Rehabilitations
The agency continues to implement its long term office space optimization program where office space is right-sized to future planned staffing levels. The office space optimization occurs when an office lease expires or an office is required to relocate by the General Services Administration. Based on the agency's excess capacity of space at each location over the past ten years, office space is generally downsized when new space requirements are prepared for planned relocations. This action usually results in overall reduced space and leveled rent cost over the life of the new leases. EEOC field offices planned for relocation or rehabilitation which will result in new leases are: Birmingham; Honolulu; Indianapolis; Jackson; Los Angeles; Miami; Nashville; San Antonio; and Seattle.
Department of Homeland Security Building Security
The agency continues to experience substantial year-to-year increases in the cost of Department of Homeland Security (DHS) contract guard services. EEOC is required to maintain security services at a Level IV rating at our new Headquarters location in Washington, DC based on an independent security assessment performed by DHS. For fiscal year 2010, EEOC's building security cost will increase by 8% from fiscal year 2009, for an estimated cost of $839 thousand. EEOC will continue to monitor, evaluate, review and look for variances in basic building requirements to ensure the necessary resources are requested for national compliance with applicable regulations and guidelines.
Department of the Interior Shared Services Provider
The Department of the Interior's National Business Center (NBC) is a designated shared service provider. EEOC has received financial systems services from NBC since fiscal year 2002. NBC advised EEOC of substantial increases in pass-through costs for security, privacy and software upgrades beginning in fiscal year 2008 and the costs are projected to increase for several years at a rate of up to 20% per year. Although the shared service provider concept promised savings after several years of operation, none have materialized.
Employee Recognition and Development
Individuals and groups are recognized for excellence in accomplishing the mission of the EEOC through the agency's Awards and Recognition Program. Eligible employees are rewarded through monetary and non-monetary awards, including time-off, on-the-spot, Cash in Your Account (CIYA), and ELA (Excellence in Leadership) awards.
Achievement of the agency's mandate through organizational excellence requires continued evaluation of and investment in its human resources to ensure that we hire, develop and retain highly skilled and motivated employees. Having the right employees in the right positions will ensure high quality results for the agency. The implementation and monitoring of human capital planning and leadership succession programs in Headquarters and field offices are high priorities.
Our training dollars will continue to support the development of current and future leaders at all levels through participation in programs, such as those administered by the Office of Personnel Management's Center for Leadership Capacity Services, the Federal Executive Institute and the EEOC's Management Development Institute.
Mission-critical skills will be continuously updated and gaps will be addressed as new investigators, mediators and attorneys are hired and redeployed. The agency's E-RACE initiative and systemic program are supported through planned training events that are directly linked to the development of mission-critical competencies and skill areas.
We continue to conduct retirement financial planning seminars to ensure that employees have the best information possible, as they plan for retirement. This effort complies with the requirements of the Financial Retirement Literacy Commission.
As we address our human resources and budget realities, we continue to rely on the use of technology to meet our learning objectives through online training via GoLearn.gov and Cyber Feds, use of video streaming, our internal Web site and other mechanisms.
The agency has made interim modifications to its Strategic Plan for fiscal years 2007 through 2012, which was initially issued on October 1, 2006 (FY 2007). As the agency implemented the new performance structure and several new performance measures included in the Strategic Plan, it has made several modifications. As the modifications were adopted, they were included in the agency's Performance and Accountability Report (PAR) and its performance budget. On July 28, 2008, the Commission approved a Strategic Plan that contained previous modifications made to the initial plan, and included several additional modifications to the performance structure. All of the modifications made to the Strategic Plan are described below:
Initially, Long-Term Measure 1 included two Annual Measures. These integrated measures were designed to demonstrate the EEOC's results in providing benefits to individuals in the workplace because of its enforcement and outreach programs. During the agency's review and preliminary efforts to design an appropriate methodology for collecting data, the agency determined that the enforcement program was the substantial component of the Long-Term Measure, and that it was not currently feasible to develop a reliable method for collecting and analyzing outreach data. In consultation with OMB, the measure was modified to measure the agency's enforcement programs only. The Annual Measure regarding outreach results was removed. Since the remaining Annual Measure for enforcement results was now redundant with the Long-Term Measure, it was also removed. Long-Term Measure 1 was modified to Long-Term/Annual Measure 1 and minor language changes were made.
In reviewing the overall focus of the agency's Strategic Plan, it was determined that a separate Management Objective was not required, since the agency's efforts to improve its internal operations were designed to benefit its front-line enforcement and outreach programs. The agency incorporated the concepts of organizational improvement into the Means and Strategies section of the Strategic Plan, highlighting their important supportive role. Organizational changes and efforts to implement the President's Management Agenda are part of the agency's strategies for doing all of its work more effectively and efficiently.
Also, the concepts described under the umbrella of the Five-Point Plan have always been critical aspects of its work. Although the Five-Point Plan itself provided an overall structure to express these important concepts, it added another organizational layer to the Strategic Plan that the agency now considers unnecessary. With the removal of a separate Management Objective and the incorporation of the essential elements into the Strategic Plan's Means and Strategies, the structure of the Five-Point Plan was less important and may add confusion for the reader of the EEOC's documents. Even though the structure of the Five-Point Plan was removed, the essential concepts remain in the Strategic Plan.
The agency also revised a number of the program evaluations it intends to conduct during the life of the Strategic Plan. The revised program evaluation schedule is included in this plan.
In addition, a completed program evaluation on the Private Sector Charge Process, that informed one of our revisions of the program evaluation schedule, was described.
The organization of the measures was revised to better explain their interrelationship. Since the Efficiency Measure was directly related to the results achieved with the revised Long-Term/Annual Measure 1, it was moved directly after Measure 1 to better describe that relationship.
The performance measures in the Strategic Plan published on October 1, 2006, did not include final goals, because of the new performance structure that had been developed during OMB's PART review of the agency a few months earlier. Since that time, the agency has developed annual targets and final goals for those performance measures retained in the modified Strategic Plan (not all of the original measures were retained—see the description of other modifications to the performance measurement structure, above). As targets/final goals were adopted for measures, they were incorporated into other agency reports; such as the agency's fiscal year 2007 PAR published in November 2007 and its fiscal year 2009 budget submission to Congress in February 2008.
Further modifications were included in the Strategic Plan approved by the Commission on July 28, 2008. For Long Term Measure 2—public confidence in the EEOC to enforce its laws—the agency increased the previously published baseline value for fiscal year 2007, the multi-year targets, and the final goal for fiscal year 2012. The increased values resulted from a re-assessment of the data collected from the survey taken of nationwide respondents who were asked a question about their confidence in the EEOC. The original values were established using scores in the 8-10 range on a 10-point scale, with "10" as the highest score. Based on the re-assessment, the range was expanded to the 7-10 range, which included additional respondents indicating their confidence in the EEOC. The Commission determined that the modification was warranted because the revised range of scores more appropriately measured the public's confidence in the EEOC's enforcement of its laws.
The Commission's vote on the Strategic Plan in July also modified the annual targets and final goal for Annual Measure 2.1—resolving private sector charges within 180-days or fewer. It reduced these values to adopt ambitious, but more realistic, goals for the Commission. In its evaluation, increasing workloads are expected to grow significantly worse, because charge receipts and the year-end inventory are significantly increasing while the number of investigative staff needed to process the work is continuing to decline.
Another modification was to remove Annual Measure 2.7—the number of individuals who demonstrate an awareness of their equal employment opportunity rights and responsibilities. Subsequent to the baseline and target information first reported for this measure, the agency has considered some alternative methodologies that could be used to measure the results for this performance measure, using data based upon responses to other questions from the nationwide survey. Since the agency is still considering the approach that should be used to measure results in this area, the Commission felt that it was appropriate to remove the measure from the agency's performance structure at this time, until we have had a full opportunity to carefully consider the best approach.
The agency also modified the program evaluation schedule to move the evaluation of the Systemic Enforcement Initiative to fiscal year 2012. The Commission determined that it would be more advantageous to evaluate this Initiative after the agency has had more time to implement it, so that it can measure results over a more appropriate time frame.
A placeholder was added for the development of a measure of the contribution of our FEPA partners toward achievement of the agency's goals. This development effort is required by the PART and the Improvement Plan adopted to change the agency's rating.
In addition, the graphic presentation of the new performance structure was revised to accurately reflect the other revisions made to the plan.
Program evaluation is an important component of an agency's effort to assure that a program is operating as intended and achieving results. A program evaluation is a thorough examination of program design or operational effectiveness that uses a rigorous methodology and statistical and analytical tools. It also uses expertise within and outside the program under review to enhance the analytical perspectives and add credence to the evaluation and recommendations.
In November 2006, an independent contractor issued its report on the program evaluation of the private sector charge process, which contained three major findings and recommendations to strengthen the Private Sector Charge intake and closure processes. It found that: 1) nationwide inconsistencies existed in the information provided to, and required from, potential charging parties and recommended that the agency address this situation; 2) different intake procedures and requirements existed in field offices that may affect access by potential charging parties and recommended that the agency review and correct any apparent procedural inconsistencies; and, 3) field offices close a higher number of charges during months preceding the end of a fiscal quarter, especially the last fiscal quarter, which may indicate inconsistencies at different times of the year and recommended that the agency periodically assess the closure patterns to ensure equitable treatment regardless of the time period involved.
In FY 2008, EEOC continued to address the findings and recommendations relating to the agency's intake procedures. While those efforts continued, they were incorporated into a larger effort. During the fiscal year, the agency had to address other aspects of its intake process due to other developments brought about by two key actions. The first was the decision to transfer the agency's National Contact Center (NCC) contract to an in-house operation, effective December 2007. The second was the Supreme Court's decision in Federal Express v. Holowecki, which while affirming the agency's intake procedures, also contained a suggestion by the Court that the Commission should review its process. All parts of these efforts to address these related issues proceeded during the year, oftentimes in concert with each other, so that as the transition from NCC to the Intake Information Group occurred and staff were hired and trained, the changes to the intake questionnaire, brochures and checklist and to the intake process could also be implemented and shared with staff. The specific activities undertaken during the fiscal year are described below:
Designed and published a new uniform intake brochure and handout to ensure that potential charging parties are consistently provided with basic information about their rights and the EEOC process. The brochure and the handout are written in a clear, concise manner. Also, prepared a Uniform Intake Checklist for field staff to use to ensure that the same basic information was conveyed verbally to Potential Charging Parties who seek to file charges in person. Issued guidance to our field offices implementing the use of these two documents.
Upgraded the agency's Electronic Assessment System (EAS) and Integrated Mission System (IMS) database. The system was upgraded to give the public access to an online assessment tool through EEOC's public website. Members of the public are now able to complete an online intake questionnaire and have certain information populated into IMS and directed to the responsible field office for further contact with each individual and charge filing if appropriate. The project enhanced the value of the EAS to investigators and support staff by requiring less direct IMS data entry during the intake process, and allowing the public to submit completed intake questionnaires online.
Issued clarifying guidance for agency field staff on the application of Holowecki to the Uniform Intake Questionnaires that are input into the IMS database through the automated Electronic Assessment System (EAS). Additionally, issued guidance detailing revised intake procedures and a new version of the uniform intake questionnaire to accompany those procedures. Included among the changes to the Questionnaire was the addition of two check boxes where an individual submitting a questionnaire can indicate whether he or she intends to file a charge.
Migrated the NCC functions to an in-house Intake Information Group (IIG), which included the hiring of 63 intake information representatives (IIRs) and three managers to staff the IIG. Developed and delivered a comprehensive training program, including substantive training on the laws EEOC enforces and our processes as well as soft skills and technology. Contracted with the Department of the Treasury to conduct the customer service satisfaction survey as it relates to the IIG calls and e-mails. Based on preliminary results submitted by the CFI Group, who conducted the survey, the overall satisfaction index remained at the same level as in FY 2007—72. This is above the current federal government average of 68. Additionally, the intake questionnaire received high marks for clarity and helpfulness. The website scored the best in areas of usefulness of information and layout.
EEOC will continue to focus on its intake procedures to ensure that the high level of quality customer service is maintained, to seek consistency in processes where appropriate, and to identify ways to continue to work with and inform interested parties of their rights under the laws we enforce.
The third finding noted apparent "spikes" in the closure of charges at the end of fiscal quarters, and especially at the end of the fiscal year. The evaluation suggested that this may indicate inconsistencies in the processing of charges relative to the processing of charges during other months of the fiscal year. While there was no firm evidence of a statistical pattern or variation in quality, the agency reviewed the issue. It determined that more reasonable cause determinations were issued in the fourth quarter than in other quarters. It also determined that many field offices use fiscal year benchmarks in their workload management plans for issuing cause findings and conciliation agreements because these results necessarily require more time to complete. The "spikes" noted in the evaluation are not unusual and do not occur because charges are being inconsistently processed at different times during the fiscal year.
Finally, beginning in FY 2008, the agency undertook another program evaluation designed to review the agency's Priority Charge Handling Procedures—how well they were working and ways to improve their implementation. This evaluation is on-target to be completed in FY 2009.
We have scheduled a number of program evaluations for completion during the next several years and will review opportunities to conduct additional evaluations. These evaluations will help guide adjustments or enhancements to these programs.
Program Evaluation
Statement of Parameters
of the Program Evaluation
Expected Initiation and Completion

Priority Charge Handling Procedures

Evaluate how well the Priority Charge Handling Procedures are working and ways to improve their implementation.

Initiate FY 2007

Complete FY 2009

Outreach/Technical Assistance

Evaluate the effectiveness of fee and non-fee based outreach/technical assistance efforts; for example, agency Technical Assistance Program Seminars (TAPS), Youth@Work activities, speakers at meetings, forums, panels or other activities designated as outreach or technical assistance.

Initiate FY 2009

Complete FY 2010

EEOC External Communications

Evaluate the impact and effectiveness of the EEOC's external communications efforts, including publicity, the agency's activities with the media, the external web site, and other public communications efforts.

Initiate FY 2010

Complete FY 2011

Effect of EEOC's Federal Sector evaluations and assistance

Evaluate the results achieved from EEOC's evaluation and assistance activities with federal agencies that changed policies, practices or procedures.

Initiate FY 2011

Complete FY 2012

Systemic Enforcement

Evaluate the effectiveness of the EEOC's systemic enforcement initiative.

Initiate FY 2012

Complete FY 2013
Our private sector, federal sector, and litigation programs require accurate enforcement data, as well as reliable financial and human resources information, to assess EEOC operations and performance results and make good management decisions. We will continue efforts to ensure the accuracy of our program information and any analysis of the information.
We continually review the information we collect in our databases for accuracy by using software editing programs and program reviews of a sample of records during field office technical assistance visits. In addition, Headquarters offices conduct analyses regularly to review the information collected in order to identify any anomalies that indicate erroneous entries requiring correction to collection procedures.
We have implemented approaches that enable the agency to collect information more rapidly and accurately by eliminating the need to enter information multiple times before it can be reviewed and analyzed. For example, we previously deployed a secure, web-based application that enabled businesses to electronically submit their annual Employer Information Report (EEO-1) to EEOC. This system continues to reduce the need for the manual entry of report data. It also includes automated edits to validate data, calculate totals, and compare statistics against the employer's prior year submission. In another example, we implemented a secure, web-based system that enabled all federal agencies to electronically submit annual equal employment opportunity statistics (Form 462). This system continues to improve the quality and timeliness of the information we receive. Finally, we continue to improve the collection and validation of information for our Integrated Mission System (IMS), which consolidates our mission data on charge intake, investigation, mediation, litigation, and outreach functions into a single shared information system. The IMS includes many automated edit checks and rules to enhance data integrity. Since several of our new performance measures require us to use data to assess our achievements, it is significant that we can now obtain those data much more quickly and with greater data accuracy. The agency also initiated a key effort in fiscal year 2008 to ensure the validation and verification of our data by establishing a cross-organizational team to implement an ongoing methodology and work plan to address immediate data enhancements for specific data areas in the IMS and to design long-range, ongoing plans for continued improvements to the IMS data-base. The immediate, and long-range activities, will ensure the continuous improvement of this data for all of the enforcement programs.
We also implemented information quality guidelines and adopted internal procedures, which strengthen our ability to verify and validate the quality of our data before it is released to the public. In addition, the agency's Office of Inspector General continues to review aspects of the status of the agency's data validity and verification procedures, information systems, and databases and offer recommendations for improvements in its reports. We use the information and recommendations to continually improve our systems and data.