Post from Chair Jenny R. Yang - May 2015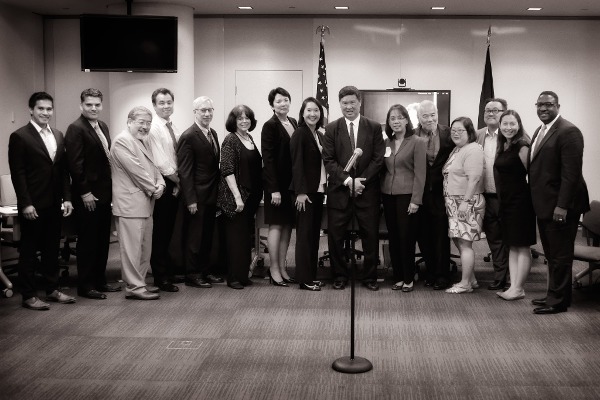 Cast of Justice Denied: Ward's Cove Packing Co v. Atonio
Asian American and Pacific Islander Heritage Month
The month of May marks Asian American and Pacific Islander (AAPI) Heritage Month, a time when we celebrate the contributions of AAPI's to the fabric of our nation. To mark the occasion, EEOC hosted a performance entitled Justice Denied: Ward's Cove Packing Co v. Atonio. We were honored to welcome the Honorable Denny Chin of the United States Court of Appeals for the Second Circuit and his wife Kathy Hirata Chin, a partner at Cadwalder, Wickersham & Taft LLP, whose artistic vision brought this historic employment discrimination case to life. Members of the cast included Karen Narasaki, Commissioner, U.S. Commission on Civil Rights, former EEOC Commissioners Stuart Ishimaru and Paul Igasaki, Arlene Tullid-Magno, First Secretary and Consul, Philippine Embassy, Patrick Patterson, Deputy Director of the Office of Federal Contract Compliance Programs, Department of Labor, Chinh Le, Legal Director, Legal Aid of the District of Columbia, along with other distinguished guests and EEOC staff, including Carolyn Wheeler, Assistant General Counsel Appellate Services, William Tamayo, Regional Attorney, EEOC San Francisco District Office, and Malcolm Medley, Director, Field Coordination Programs.
To provide some background, Asian Americans and Pacific Islanders have been a part of the salmon canning industry in Alaska since the late 1800s, when most cannery workers were Chinese. Starting in the 1920s, after the passage of the Chinese and other exclusion laws, Filipinos became a main work force. They were relegated to the worst jobs, working long hours in poor conditions for low pay. Housing was segregated.
The performance told the story of the Ward's Cove cannery workers, through a reenactment of court proceedings and historic photographs. In the 1970s, led by Filipino activists, the workers organized and filed three discrimination class actions, including Ward's Cove, which went to the Supreme Court in 1989. The story of the Ward's Cove cannery workers highlights the issues of discrimination that existed for the AAPI workers in the salmon canneries of Alaska and that continue in a number of workplaces in contemporary forms in the present day. And just like the inspiring workers at Ward's Cove who fought for justice and equality, there are workers today who are standing up to assert their rights to be treated fairly and free from discrimination.
For example, in September 2014, the EEOC settled a case against Global Horizons and Del Monte, securing $2.4 million in relief for 500 Thai farmworkers who we allege were charged exorbitant recruitment fees which placed them into a situation of debt bondage. We further alleged that workers were then subjected to varying degrees of denial or delay of pay; had their movements monitored and passports confiscated; had production quotas imposed that did not apply to non-Thai workers; were denied adequate food and water; and forced into unsanitary, overcrowded living conditions. Lastly, we alleged that those who complained of the pattern or practice of discrimination and harassment were retaliated against, with many forced to quit or flee as a result.
Of course, for every charge of discrimination that is filed with the agency, there are many more individuals who do not come forward. To reach out to some of our most vulnerable workers, the EEOC has partnered with other agencies including the Department of Justice, the Department of Labor, and the National Labor Relations Board to go out to AAPI communities around the country to hear about the issues they are facing and educate workers about their rights.
The history of AAPI's in the United States is not always fully told in our history books, but the contributions of this community to advancing equal rights is significant. As President Obama noted in his Presidential Proclamation,
"From the more than one million immigrants who journeyed across the Pacific and arrived on Angel Island to the Chinese-American laborers who risked their lives to link our coasts by rail, the determination of this vibrant community represents the best of our national character. In each chapter of our country's story -- in places like Selma and the grape fields of Delano, during the moments where our Nation's destiny has been decided -- AAPIs of all backgrounds have set inspiring examples as leaders and trailblazers, united by a common hope for civil rights, equal treatment, and a better tomorrow for all Americans."
- President Barack Obama Presidential Proclamation, Asian American and Pacific Islander Heritage Month, 2015