The purpose of Chart 2 below is to depict the EEOC's total agency funding profile by Program for fiscal years 2011through 2013. Nine percent of the Private Sector Program is for State and Local activities for authorized payment to Fair Employment Practices Agencies (FEPAs) and Tribal Employment Rights Organizations (TEROs) for services.
III. PRIVATE SECTOR PROGRAMS
A. Private Sector Enforcement Programs
Charge Receipt and Inventory
In fiscal year 2011, through our strong enforcement activity, we achieved 112,499 resolutions, our highest level ever, with a merit factor resolution rate of 18 percent. (Merit factor resolutions include mediation and other settlements and cause findings, which, if not successfully conciliated, are considered for litigation.) Our focus on achieving changes to workplace practices, procedures and policies through our private sector administrative enforcement activities yielded improved workplaces for more than 4.3 million individuals. The EEOC also secured more than $364.6 million in monetary benefits through its private sector administrative enforcement activities-the highest level of monetary relief obtained through administrative enforcement in the Commission's history. Overall, the EEOC secured both monetary and non-monetary benefits for more than 19,572 people through administrative charge resolution.
A Decrease in Frontline Staff and Increased Receipts Contributed to Growth in Inventory
While the agency has achieved some significant successes as outlined above, these successes are better understood in light of the challenges confronting the agency earlier over the past 10 years. The EEOC's charge inventory has been growing since fiscal year 2002. Compared with the inventory in fiscal year 2002, when it was at its lowest point in the last 15 years, the inventory in fiscal year 2009 had almost tripled - adding 56,727 charges. Additionally, in the third quarter of fiscal year 2010, the pending inventory reached 92,561, the highest level since fiscal year 1995. The growth in inventory resulted from two primary causes: a nearly 30 percent frontline staff attrition between fiscal year 2000 and fiscal year 2008 and a substantial increase in charge receipts. Recent increases in the agency's budget in fiscal years 2009 and 2010 have allowed us to make strides in managing the inventory which we continued to see through fiscal year 2011. We remain committed to improving our internal processes and enhancing our productivity to make significant progress in managing the inventory. The hires we have identified in our fiscal year 2013 budget along with the ability to replace some of the front-line staff as positions become available due to attrition will help shore up the staffing levels of our key front-line staff.
The most significant factor in successfully managing the inventory has been the ability to hire front-line staff to perform critical enforcement activities. After nearly 10 years of losing investigators and mediators, we were able to hire 164 investigators and mediators in fiscal year 2009 and fiscal year 2010. This hiring created a corresponding surge in charge resolutions, from 81,081 at the end of fiscal year 2008, to 104,999 in fiscal year 2010 and a record level of 112,499 in fiscal year 2011. Because of this success, we were able to reduce the inventory at the end of fiscal year 2011 by nearly 10 percent - with 78,136 charges pending. This is the first significant decline in our inventory level in 10 years.
We recognize that the EEOC must continue to maintain frontline capacity. That is why this fiscal year 2013 budget justification requests 46 FTE for investigator positions as well as replacing 38 FTE positions that vacated during the year to maintain our staffing levels and better match our workload. This hiring will allow EEOC to stay ahead of the inventory growth while also utilizing other ways to address the inventory and increase productivity to make the best of a difficult fiscal environment.
As an agency, we have seen charge receipts produce record levels in both fiscal year 2010 and fiscal year 2011, with more than 99,900 received each year. We believe that these increases have been due in large part to our efforts to become more accessible to the public, making charge filing easier and providing better, more responsive, customer service. The increases are also attributable to expanded statutory authorities enacted in fiscal year 2008 and fiscal year 2009, along with newly issued regulations in fiscal year 2011. We recognize that many other factors may influence charge receipts, which has an effect on the number of charges filed by the public.
Through our Intake Information Group, the EEOC expanded the agency's public accessibility by phone and e-mail. Additionally, in the last five years, the EEOC has concentrated on revamping its charge intake services, expanding walk-in hours, and issuing a plain language brochure to assist potential charging parties in understanding their rights and the EEOC's intake, investigation and resolution of charges. Individuals may now contact the agency by phone, by mail, by e-mail, by going to the EEOC website, or by visiting EEOC field offices. As outlined in our budget request, we are continuing to explore additional avenues to ensure that our access to the public utilizes evolving technologies and other streamlined approaches to enhance customer service.
We have also maintained a focus on providing our staff with on-going training and sharing of case management techniques that prepare them to investigate and resolve the charges that come through our doors. This has included the launch of a nationwide training program on Compensation Discrimination, which has been developed in partnership with the U.S. Department of Justice and U.S. Department of Labor (OFCCP and Wage and Hour Division) to promote more effective enforcement of the Equal Pay Act, the Lily Ledbetter Fair Pay Act and Title VII. Through December 2011, we trained more than 1,300 staff from EEOC, OFCCP, Wage and Hour Division and our FEPA partners at 65 training sessions held nationwide. It is our hope that with additional resources provided pursuant to the fiscal year 2013 request, we will be able to continue to provide staff with on-going training to ensure that they are prepared to effectively meet the public demand for our services.
Expanding upon the recommendations from the Evaluation of the Priority Charge Handling Procedures (PCHP) prepared by the Federal Consulting Group at the Department of Interior's National Business Center in 2010, we will continue to emphasize PCHP through intensified training, consultation with managers and staff throughout the agency to identify charge investigation and resolution best practices, and to ensure that charges are dealt with fairly and efficiently. This includes the need to leverage increased use of technology to improve the efficiency of private sector charge resolutions.
As demonstrated above, the EEOC has made significant progress toward rebuilding the capacity needed to effectively enforce Federal employment discrimination laws through the strategic management of existing resources. Yet further investments in staff, training and technology are necessary to process record levels of charge receipts.
Budget Request Details and Impact
The EEOC is requesting 46 FTE for investigator hires in order to maintain the current FTE level including the replacement of 38 FTE of our front-line positions that are vacated during the fiscal year. Although our ability to hire additional frontline staff began in fiscal year 2009 and continued in fiscal year 2010, our enacted appropriation resulted in the loss of investigator and mediator positions during the year. This decline, which has continued in fiscal year 2012 under our current appropriation, makes our fiscal year 2013 budget request even more critical to ensure that we remain able to continue our successes in inventory reduction and in rebuilding staff capacity.
Our projections show that with the additional 46 FTE for investigators and the replacement of a large percentage of vacated investigator positions, we will be able to produce a steady decline in the pending inventory. Our charge data projections also show that in fiscal year 2012, our investigators will carry an average caseload of 119 and with the additional investigator resources; we will be able to reduce this to 114 cases per investigator in fiscal year 2013. This caseload is still at a level that will lead to an average resolution time exceeding the 180 day target- affecting all parties to the investigation. The EEOC will continue to examine process improvements which, in combination with the resources requested, will allow the agency to reduce its inventory and reduce the average time it takes to investigate and resolve charges.
Hiring Other Critical Staff
While hiring frontline investigators is crucial to bringing the inventory down to an acceptable level, there are other critical positions in the EEOC's field offices that should be maintained along with investigators: mediators, investigative support assistants, and office automation assistants. These are also included in the staffing projections in this fiscal year 2013 budget request.
Systemic Program
The Commission places a high priority on cases involving systemic discrimination which impact large numbers of employees and job seekers. Systemic investigations address employer practices that affect hundreds and often thousands of individuals. Therefore, directing EEOC's resources toward systemic investigations maximizes EEOC's efficiency.
The purpose of Table 5 below is to show Systemic Resolutions, Systemic Cause Findings, Systemic Litigation Filed and Pending Systemic Inventory for fiscal years 2009 through 2011.
Table 5:
Systemic Program Fiscal Year 2009 to Fiscal Year 2011

| | | | |
| --- | --- | --- | --- |
| | FY 2009 | FY 2010 | FY 2011 |
| Systemic Resolutions | 140 Investigations | 165 Investigations | 167 Investigations |
| Systemic Cause Findings | 74 Investigations | 71 Investigations | 96 Investigations |
| Systemic Litigation Filed | 19 | 20 | 23 |
| Pending Systemic Inventory | 431 Investigations | 465 Investigations | 580 Investigations |
EEOC hired nine Lead Systemic Investigators and nine Social Science Research Analysts, all located in EEOC field offices, to support EEOC's systemic work. These individuals are tasked with working on systemic work exclusively and have formed a key foundation for EEOC's systemic work.
Because systemic discrimination often involves employment practices that occur across various regions or are national in scope, EEOC promotes multi-district collaboration when conducting systemic investigations to prevent multiple parallel investigations of the same employer, promoting efficiencies. The Lead Systemic Investigators and Social Science Research Analysts are assigned to systemic investigations in various EEOC field offices, notwithstanding their particular duty station. EEOC continues to develop technological tools to support systemic work that facilitates this national law enforcement model.
EEOC has also built partnerships with other federal agencies to strengthen our systemic efforts. For example, we launched a pilot project of four EEOC district offices and the Department of Justice (DOJ) to establish effective interagency procedures needed for enforcement of Title VII in the public sector, which by statute requires DOJ to conduct litigation following an EEOC investigation. EEOC has also forged a strong partnership with the Department of Labor's Office of Federal Contract Compliance Programs (OFCCP). By sharing information about investigative efforts, the agencies have been able to more effectively coordinate their respective investigations of broad-based employment practices.
C. Litigation
Litigation
The National Enforcement Plan, adopted in 1995 by a unanimous vote of the Commission, recognized "that an effective litigation program is critical to the furtherance of the Commission's enforcement agenda by enjoining current violations, deterring future violations, and providing remedies to victims of employment discrimination." Congress authorized the EEOC to conduct litigation challenging discriminatory conduct by private sector employers in the 1972 amendments to Title VII (the U.S. Department of Justice retains jurisdiction to litigate employment discrimination cases involving state or local government entities). Most charges of discrimination filed with the Commission are resolved through administrative enforcement processes, including mediation and conciliation. However, when conciliation of a meritorious discrimination charge fails, the Office of General Counsel elects to challenge the discriminatory practice(s) in federal court in a limited number of cases each year.
The National Enforcement Plan recognized that while outreach and education to prevent discrimination and the promotion of alternate dispute resolution are important components of the EEOC's enforcement effort, in appropriate cases, litigation is the most effective means of challenging and remedying employment discrimination. Maintaining a visible and successful litigation program provides employers with an incentive to comply voluntarily with the law and to resolve charges of discrimination during the Commission's administrative enforcement process, and serves as a deterrent to other employers who may otherwise act in disregard of the civil rights laws. The Commission's litigation program must harness its limited resources to address issues of importance to individual parties, and which also serve the public interest more broadly. Finally, as a law enforcement agency of the federal government, the EEOC must use all of its resources judiciously, with awareness of the power entrusted to it and in accordance with the highest standards of ethics, professionalism and fairness.
The requested appropriation will enable the Commission to maintain a diverse and balanced litigation docket, covering all statutes we enforce and addressing the full spectrum of workplace issues. In particular, the Commission will continue to place a high priority on bringing suits challenging systemic discrimination. Recognizing its resource limitations, the Commission has long emphasized that the litigation program should focus on issues which have the potential to impact multiple workplaces or large groups of employees, address emerging or novel issues where the agency's expertise may be especially critical to achieving a successful outcome, and encompass individual cases where broader law enforcement goals can be advanced with the successful resolution of the case. In addition, the EEOC strives to ensure that its litigation program reaches communities, population groups and geographic locations where private enforcement of anti-discrimination laws is rare; absent litigation by the EEOC, victims of discrimination in these areas would have minimal access to the legal system to protect their rights.
In all our litigation, the Commission seeks to secure substantial injunctive and equitable relief as well as appropriate monetary relief for all aggrieved individuals. In the past three fiscal years, the Commission has recovered $256,780,068 in damages and backpay for 18,954 victims of discrimination. Over this period, the Commission has maintained a success rate of 90 percent or higher.
The Commission also places a priority on enforcing new statutory responsibilities. Since the effective date of the ADAAA in early 2009, the Commission has closely monitored the progress of charges alleging violations of the ADA. The Commission filed 12 suits arising under the ADAAA in fiscal year 2010, and filed 59 such cases in fiscal year 2011. We anticipate that the Commission will play an important role in enforcing this statute in fiscal year 2013, just as it did in litigating some of the earliest ADA cases. The Commission also places a high priority on ensuring that Commission attorneys and investigators work together as a team, often before litigation is ever contemplated. Commission attorneys spend a significant portion of their time providing assistance with the development of investigation plans, interviewing witnesses, analyzing evidence and negotiating charge resolutions.
The Commission's appellate litigation program plays an important role in the overall enforcement scheme. We are highly successful in retaining favorable district court judgments appealed to the courts of appeal, as well as in obtaining reversals of unfavorable district court judgments. In addition, our amicus curiae program is a powerful tool in influencing courts to accept the Commission's interpretations of the law. This past term, the Supreme Court issued three decisions adopting the views expressed in amicus briefs filed by the Solicitor General, which were joined in by the Commission. In Thompson v. North Am. Stainless, L.P., 131 S. Ct. 863 (2011), the Court agreed with the Commission's view that Title VII provides a retaliation cause of action to anyone with an interest arguably sought to be protected by the statute, which includes an employee who was discharged as a means of retaliating against his fiancée. In Staub v. Proctor Hosp., 131 S. Ct. 1186 (2011), the Court agreed with our view that the discriminatory animus of a non-decision maker supervisor could be imputed to the employer where that supervisor intended that his discriminatory conduct result in an adverse action and the discriminatory conduct was a proximate cause of the challenged action. Finally, in Kasten v. Saint-Gobain Performance Plastics Corp., 131 S. Ct. 1325 (2011), the Court agreed with our view that the Fair Labor Standards Act, which includes the Equal Pay Act, prohibits retaliation against someone for filing an oral complaint. The Commission plans to continue using this low cost yet highly effective tool in fiscal year 2013.
With the requested resources for fiscal year 2013, the EEOC will have a goal of filing 209 enforcement suits. This is a decrease from the previous year, and is based on the assumption of decreased attorney staffing levels, a high concentration of pending systemic litigation, and the filing of at least 20 new systemic discrimination suits in both fiscal year 2012 and 2013. Systemic litigation is highly resource intensive, both in terms of staff time and litigation support funds, and so our increasing focus on systemic litigation will necessarily yield a docket that includes fewer cases than in previous years, but will include more cases with potential to broadly impact employer practices and policies. We believe that devoting a significant portion of our litigation resources to systemic discrimination suits is a wise investment, since these cases maximize our ability to eradicate discriminatory policies and practices while obtaining relief for large numbers of individuals. Systemic cases can involve challenges to discriminatory policies or challenges to practices that affect anywhere from 20 to thousands of individuals. Systemic cases by their nature continue in active litigation over a multi-year period, and the funding and staff resources associated with them will also span multiple fiscal years. The requested funding for fiscal year 2013 thus includes expenses associated with cases filed in earlier years as well as new case filings. The EEOC's active litigation docket changes from day to day, but as of yearend fiscal year 2011, it included 63 cases involving at least 20 victims of discrimination, which was approximately 14 percent of the agency's total active litigation. Based on the large volume of systemic charges currently in investigation, we expect to steadily increase the representation of systemic lawsuits on our docket in 2013 and beyond.
As a greater proportion of our litigation docket is focused on systemic cases, the amount of resources needed to perform the work will rise. While the cost of litigating all types of cases has been increasing, the increase in the number of systemic discrimination cases on the docket is largely responsible for the large increase in litigation costs. Systemic cases typically require substantial resources in terms of professional staff time and litigation expenses, including expert witnesses, the costs of extensive motion and discovery practice, and travel. Therefore, even a modest increase in systemic litigation activity has a major impact on the resources needed and will have an impact on the quantity of smaller cases the Commission is able to litigate.
The purpose of Chart 8 below is to depict the projected litigation docket including the number of lawsuits filed, and resolutions for actual fiscal years 2009 - 2011 and projections for fiscal years 2012 - 2015.
Chart 8:
Litigation Docket Fiscal Year 2009 to Fiscal Year 2015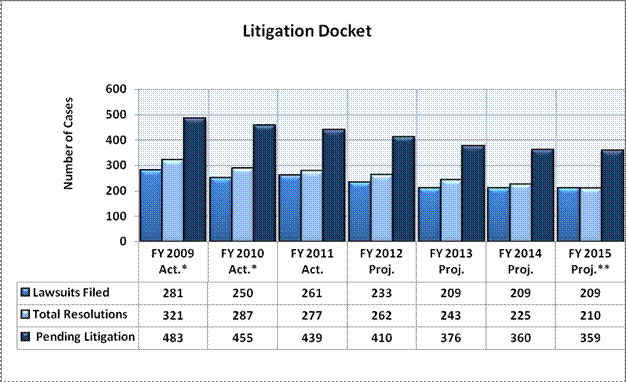 * Pending beginning inventory adjusted to reflect charge activity spanning fiscal years.
**May not add due to rounding
IV. FEDERAL SECTOR PROGRAMS
A. Federal Sector Enforcement Activities
In order to meet the increasingly complex needs of our nation, federal agencies must position themselves to attract, develop and retain a highly qualified workforce that can deliver results to the American people. Equal opportunity in the federal workplace is key to accomplishing this goal; agencies must fully utilize the talents of all, without regard to race, color, religion, national origin, sex, age, disability or genetic information.
To this end, Title VII of the Civil Rights Act of 1964 and Section 501 of the Rehabilitation Act of 1973 mandate that all federal personnel decisions be made free of discrimination, and require federal agencies to establish affirmative programs of equal employment opportunity (EEO) for all federal employees and job applicants (42 U.S.C. §2000e-16 and 29 U.S.C. §791). Under these laws, and through subsequent statutes and amendments, Congress gave EEOC oversight responsibility over EEO programs in the federal government to ensure that equality of opportunity is provided to the over two million men and women across the country and around the world who have dedicated their lives to public service.
Additionally, Congress mandated that the EEOC act as the enforcement authority for complaints of discrimination for applicants and employees in the federal sector. The Commission implements this authority through regulations that establish procedures for federal employees or job applicants to file complaints of employment discrimination. The agency charged with discrimination is responsible for informal counseling; and, if a complaint is filed and that complaint is accepted, for investigating the claims raised therein. At the conclusion of the investigation, or after 180 days following the filing of a complaint, the complainant may request a hearing before an EEOC Administrative Judge (AJ). Instead of requesting a hearing the complainant may request that the agency issue a final decision on the matter. The agency's final decision or final action after a hearing may be appealed to the Commission.
B. Federal Sector Improvements - Hearings
The overarching goal of the federal sector program is enforcement of the nation's laws outlawing employment discrimination in the federal workplace. One way the Commission fulfills this mandate is through its vigorous federal sector hearings program. With 24 hearing units located throughout the United States, the program provides federal sector complainants with a full, fair, and impartial adjudication of their EEO complaints.
In fiscal year 2011, the EEOC secured more than $57.5 million in relief for parties who requested hearings. There were a total of 8,113 requests for hearings, more than the 7,707 received in fiscal year 2010. Additionally, the Commission's hearings program resolved a total of 7,672 complaints.
The Commission continued its focus on expanding the use of technology to make the Federal Hearings process faster and more effective. This focus on technology includes the on-going development of a web-based filing and electronic File Exchange portal (EFX) system for hearings units nationwide and the expanded use of HotDocs technology for AJs.
The EFX system is designed to allow federal agencies and federal complainants the ability to securely submit electronic Reports of Investigation, Complaint Files, and other documents to the EEOC in support of the federal hearings and appellate processes. The system is currently being piloted in 11 EEOC field office hearings units, the Office of Federal Operations, and several agencies including the US Postal Service, Department of Veterans Affairs, Department of Homeland Security, Treasury Department, Department of the Navy, Department of Air Force, and the Defense Logistics Agency. Upon conclusion of the pilot period, the system is slated to expand to all EEOC hearings units and become available to all federal agencies, complainants, and their representatives, providing the vehicle by which they can file motions and submit supporting documentation.
Moreover, Administrative Judges will be able to issue Orders and Decisions through EFX. This will allow the federal sector hearings process to become more streamlined, efficient and transparent, thereby improving customer service to all stakeholders.
The federal sector hearings program is also exploring other tools to leverage technology in order to increase both the quality and efficiency of decisions issued by its Administrative Judges, thereby helping to manage the growing hearings inventory. With initiatives such as Hot Docs, which involves the creation of standardized Orders and Decisions that Administrative Judges can utilize as templates; as well as expanding efforts to encourage informal resolution of claims at the hearings stage, such techniques will further improve customer service to those individuals having claims adjudicated through the federal sector hearings process.
The purpose of Chart 9 below is to demonstrate the workload and number of Administrative Judges assigned to handle hearing complaints, actual for fiscal years 2009 through 2011 and projections fiscal years 2012 through 2015.
C. Appeals and Oversight of Federal EEO Activities
The EEOC's regulations at 29 C.F.R. Part 1614 provide the Commission with the responsibility for acting as the neutral arbiter in the federal sector for appeals from agency decisions on EEO complaints, collective bargaining agreement grievances alleging discrimination against federal agencies, and reviewing decisions by the Merit Systems Protection Board containing allegations of discrimination in appealable actions. In this capacity, the Commission has developed and implemented innovative ways to control an appellate inventory that had grown to unacceptable levels in the 1990's. Leveraging technology has been the cornerstone of this effort, and EEOC continues to implement technological advances to more effectively manage the appellate inventory.
The Commission initiated its digital infrastructure in fiscal year 2005 with the roll out of the federal sector component of EEOC's document management system. With this initiative, all federal sector appeals-related documentation is either received from agencies in digital form, or scanned and converted upon receipt. The EEOC recognized early on that the transition to a digital environment would result in significant savings, both internally, and with its federal sector stakeholders.
The Commission's EEOC EFX also provides enhancements for the federal sector appeals unit, providing a vehicle for the two-way exchange of complaint-related documents between agencies and the Commission, where agencies log in to EFX and upload digital files to the EEOC's document management system. The future enhancements include expansion of the EFX so that complainants can file appeals and submit supporting documentation through the system. Additionally, EFX will allow the exchange of appeal-related documents, to facilitate the availability of documents on appeal.
Concurrent with these efforts, the EEOC has employed targeted management techniques and adopted strategic measures designed to both increase the efficiency and fairness of the appellate decision-making process, and manage the appellate inventory. For example, the Commission measures its operational success by resolving aged appeals, increasing the percentage of appeals resolved within 180 days, and measuring the impact of the appellate decisions in the federal workplace.
The purpose of Chart 10 below is to demonstrate the workload inventory and number of attorneys assigned to adjudicate appeals of complaints decided by the EEOC actual for fiscal years 2009 through 2011 and projections for fiscal years 2012 through 2015.
One factor that contributed to the EEOC's success in managing its appellate inventory was the trend since fiscal year 2000 of declining appellate receipts. Unfortunately, however, this favorable trend came to an abrupt end in fiscal year 2011, when appellate receipts increased by 13.8 percent from fiscal year 2010 levels. This increase in appeals is the largest in more than fifteen years, and mirrors recent increases in the number of federal sector EEO complaints in general, where formal complaints increased 3.8 percent from fiscal year 2009 to fiscal year 2010, and increased 5.1 percent since fiscal year 2006.
As a result of this year's increase in appellate receipts, the Commission is no longer projecting an annual 1 percent decline in the number of new appeals filed in successive years. Until the EEOC has more data to determine whether this increase in receipts is a one-time aberration or the start of a new trend, we have adjusted projected receipts to stay level in the future years. If the increase in appellate receipts continues in the coming fiscal years, the Commission will face new challenges in maintaining the appellate inventory at acceptable levels.
Regardless of these trends, the EEOC will continue to provide technical assistance and guidance to agencies to help them remove barriers to equal employment opportunity and to develop and deploy effective early dispute resolution mechanisms. The goal of this integrated approach is a reduction of discrimination in the workplace, resulting in fewer EEO complaints.
While the above chart depicts projections in the appellate inventory and the Commission's success in resolving those appeals, the numbers do not convey the impact of the Commission's appellate decisions. EEOC's appellate decisions serve as a vehicle for the development and promulgation of the Commission's EEO policy in the federal sector. They address complex issues in areas of the law where EEO policy is less clear or evolving. Further, they serve to educate federal sector complainants and agencies about the law, guide agencies in their efforts to become model workplaces, and vindicate the public interest in eradicating discrimination in federal employment.
D. Federal Sector Strategies and Analysis of Workforces
Employment discrimination in the federal sector directly impacts agencies' abilities to perform their core missions. Victims of actual or perceived discrimination personally suffer extensive harm, and this, in turn, may impact the performance of their duties. Additionally, agencies must devote precious resources to investigate and defend against instances of alleged discrimination and to remedy those found to be meritorious.
To implement the federal government's policy prohibiting employment discrimination, agencies are required to maintain continuing affirmative programs to promote equal opportunity and to identify and eliminate any barriers to participation by all federal employees. The EEOC, serving in its oversight capacity for these efforts, implemented EEO Management Directive 715 (MD-715), which details strategies for identifying and removing barriers to free and open workplace competition and that requires agencies to incorporate EEO principles into their missions. Should an agency identify barriers to equal employment opportunity, the Commission works with the agency to eliminate those barriers. The EEOC works with agencies to promote model EEO program policies and practices that foster an inclusive work culture and prevent employment discrimination by reviewing their annual MD-715 submissions, providing in-person and telephonic technical assistance, and issuing written feedback.
As part of its ongoing efforts to assist agencies with analyzing their workforces, improve transparency, and analyze the diverse federal sector EEO data sets, the EEOC recently piloted an online database with numerous federal agencies. The purpose of the database is to collect, validate, analyze, collaborate, and report information relating to its government-wide oversight activities, and to develop EEO community web-based forums designed to allow federal sector stakeholders to exchange valuable EEO-related information, such as best practices, relevant articles, etc. This will supplement the Commission's delivery of relevant and helpful information, training, and EEO solutions to federal agencies, and it will enhance its dissemination of federal sector research materials through placement of Commission decisions and other helpful federal sector information on the EEOC's web site.
Additionally, the EEOC offers an extensive catalog of training courses to help agencies meet their training needs. The courses offered cover all the laws the Commission enforces and meet regulatory training requirements for certain federal EEO staff. The Commission offers both open enrollment and customized courses.
V. SERVING THE AMERICAN PUBLIC
Building upon its mission to "Promote Equality of Opportunity" in the nation's workplaces, the EEOC will continue a robust outreach program to meet the needs of diverse audiences. In so doing, we will partner with the employer community, colleges and universities, advocacy groups, the growing underserved which include immigrant and farm worker communities, governmental entities, and other stakeholders to foster strategies to recognize and prevent discrimination in the workplace.
Outreach
During fiscal year 2011 we have been able to reach out to individuals in all 50 states as well as the District of Columbia, the Commonwealth of Puerto Rico, the U.S. Virgin Islands and the U.S. Possessions of American Samoa, Guam, Northern Mariana Islands, and Wake Island. The agency's no-cost outreach programs reached 511,951 persons in fiscal year 2011 with EEOC offices participating in 6,264 educational, training, and outreach events. Additional funding will provide the EEOC with needed resources to expand its presence even further into currently underserved geographic areas, and to help fulfill the goals and agency initiatives.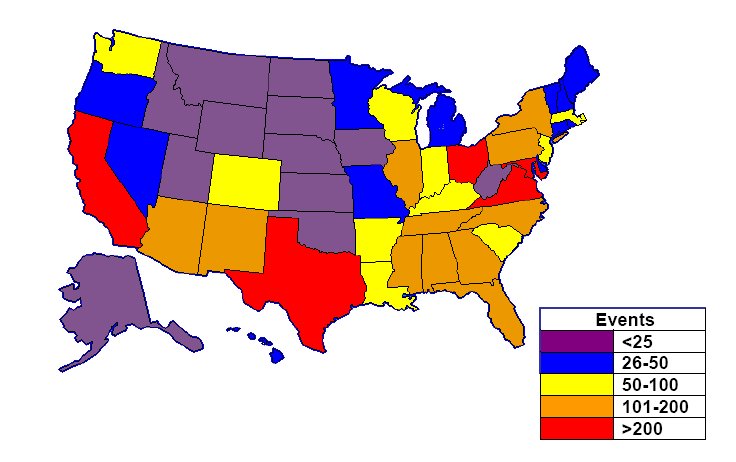 Through public relations, training and education, the EEOC enhances public awareness of emerging issues of employment discrimination in America's workplaces. Our outreach is meant to provide knowledge and an understanding of workplace conditions that may give rise to violations of the statutes we enforce. Employer knowledge of our laws contributes to their ability to independently identify, prevent and eliminate workplace discrimination. Much of our outreach is conducted through partnerships with employee advocates, human resource professionals, employer groups, as well as State and Local human rights commissions or Fair Employment Practice Agencies (FEPAs).
The EEOC educates employers and other members of the public about systemic discrimination, including the identification of trends, industries and issues as seen in cases the agency has handled in its enforcement and litigation. Public relations through print and broadcast media have highlighted the value of publicizing our systemic discrimination court victories because of the ripple effect such decisions can have on promoting industry change.
In addition, the EEOC utilizes outreach in order to educate students and young workers about their workplace rights and responsibilities, including specific discussions on sexual harassment and how to seek assistance to address or report incidents of harassment that occur in the workplace. Diligent efforts are ongoing to reach out to schools and educators to share training materials. As resources allow, the Commission develops and presents training to teenagers and young workers as they enter and navigate through the workplace. Furthermore, we provide training and information to businesses that employ young workers to encourage them to proactively address discrimination issues confronting young workers.
The EEOC will also maintain its outreach to small businesses, especially those lacking the resources to maintain full-time professional human resources staff, and to stakeholders in underserved communities across the nation, including those with limited English proficiency. Immigrant and farm worker communities are included as a priority for outreach.
Finally, we remain prepared to respond to unanticipated issues that arise in the workplace. The EEOC must be on the forefront in informing both employees and employers alike of their rights and responsibilities in the ever-changing workplace environment.
VI. REVOLVING FUND - EDUCATION, TECHNICAL ASSISTANCE AND TRAINING
The EEOC Training Institute (the Institute) provides fee-based training and technical assistance to stakeholders from both the private and public sector. The operations of the Institute are funded through EEOC's Revolving Fund, which is an instrument established by Congress in 1992 to enable EEOC to charge "reasonable fees" for specialized products and services developed and delivered as part of the Commission's training and technical assistance efforts. The Revolving Fund serves as the mechanism through which EEOC is able to collect payments, thus offsetting some of the costs devoted to training and technical assistance and allowing the agency to offer more non-fee based outreach events to those populations less able to pay for training. In fiscal year 2010, the Training Institute trained over 26,800 individuals at more than 550 events, including 465 field Customer Specific Training events with 19,350 attendees.
In fiscal year 2011, a committee was established to update the Business Plan which provides the long range direction for the program. The goal of the committee is to complete the Plan during fiscal year 2012. The Plan will cover fiscal years 2013 through 2017, and will complement the agency's new strategic plan as it relates to outreach, technical assistance and training.
The purpose of Table 6 below is to show the financial summary of the Revolving Fund.
Table 6:
Summary of Financing for the Revolving Fund
Fiscal Year 2009 to Fiscal Year 2015
Dollars in thousands*)
FY 2009 (Act.)
FY 2010 (Act.)
FY 2011 (Act.)
FY 2012 (Proj.)
FY 2013 (Proj.)
FY 2014 (Proj.)
FY 2015 (Proj.)

Total Obligations

$4,537

$4,334

$4,269

$4,550

$4,886

$4,984

$5,084

Offsetting collections from:

Federal Funds

2,146

1,833

1,992

2,043

2,123

2,166

2,209

Non Federal Sources

2,222

2,434

2,277

2,294

2,335

2,590

2,741

Unobligated balance, start

of year

3,065

2,895

2,829

2,829

2,616

2,188

1,960

Unobligated balance,

end of year

2,895

2,828

2,829

2,616

2,188

1,960

1,826

Net Budget Authority

$7,432

$7,162

$7,098

$7,166

$7,074

$6,944

$6,910
*May not add due to rounding
VII. AGENCY INFRASTRUCTURE
A. Introduction
We are constantly seeking ways to achieve organizational excellence by improving our organizational capacity and infrastructure through sound management of our resources-human, financial and technological. Maximizing effective use of our resources is essential to achieve our enforcement and outreach goals and to carry out our mission.
B. File Disclosure Workload
The data indicates that the number of requests received will continue to increase through fiscal year 2015.
The purpose of Chart 11 below is to depict the actual FOIA workload for fiscal years 2009 through 2011 and projections for fiscal years 2012 through 2015 including requests received, requests processed and pending.
Chart 11:
Freedom of Information Act (FOIA) Fiscal Year 2009 to Fiscal Year 2015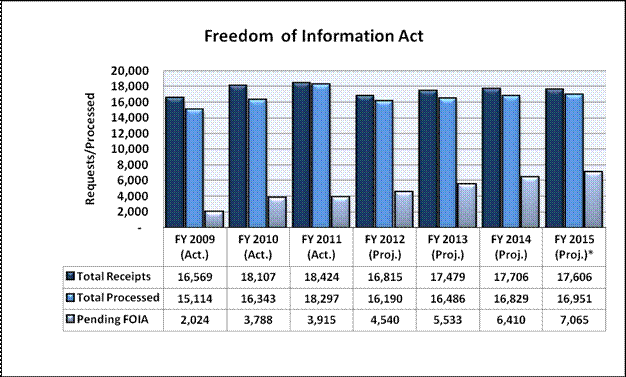 *May not add due to rounding
The data indicates that the number of charge file disclosure requests processed under Section 83 of the EEOC Compliance Manual will also increase, reaching an approximate high of 6,000 requests processed annually by fiscal year 2015.
The purpose of Chart 12 below is to depict the Section 83 actual workload for fiscal years 2009 through 2011 and projections from fiscal years 2012 through 2015 including requests received, processed, and pending at the end of the fiscal year.
C. Information Technology Funding
The EEOC Information Technology (IT) strategic vision provides the agency with a roadmap for leveraging the power of technology to transform agency operations and improve the customer experience. This vision, created through working sessions with EEOC program staff, provides a strong, direct alignment to EEOC's business needs, strategic goals, and customer service priorities. Achievement of this vision will require the use of innovative web technologies, technology infrastructure modernization, transformation and automation of our business processes, and standardization in applying best practices across our offices.
The $2 million increase in fiscal year 2013 technology funding offsets the decrease in the fiscal year 2012 funding level. It returns the program to slightly less than our level base, which is $17.6 million. In fiscal year 2012, EEOC initiated several cost cutting and cloud computing initiatives to reduce recurring IT operational costs. These recurring reductions, along with the return to near level funding, will allow the Agency to make some progress in implementing Strategic Initiatives, such as: (1) increasing the efficiency of charge and complaint processing through expanded use of technology; (2) providing avenues of on-line self-service to streamline delivery and improve the customer experience; and (3) develop a social media action plan to support the agency outreach and training mission.
EEOC Cloud Computing Initiatives - During fiscal year 2011, EEOC instituted a Cloud-First Policy which has been integrated into the agency's capital planning and investment control processes, our Project Management Life Cycle procedures, our cyber-security practices, and our budget formulation processes. Since then, we have made significant progress on our cloud computing implementation plan and related goals. In October 2011, EEOC implemented a new cloud-hosted financial management solution which will save the Agency approximately $1.9 million a year in recurring costs. We also implemented cloud-hosted web conferencing, distance learning, and meeting services which decreased recurring costs by approximately 64 percent a year. During fiscal year 2012, EEOC will implement a new cloud-based IT Service Management (ITSM) tool, which will replace our out-dated in-house help-desk tracking system. Through this implementation, EEOC will make progress toward our IT Strategic Goal to "Excel in IT Service Management in a Customer Centric Enterprise" and will significantly increase customer self-service and knowledge base capabilities, without expending resources on the hardware, software, implementation and on-going maintenance that would have been necessary to upgrade the existing in-house solution.
D. Finance and Administration
The purpose of Chart 13 below is to display the actual number of contracts/purchase orders awarded in fiscal years 2009 - 2011. As the chart shows we also are projecting an increase in the number of contracts/purchase orders awarded in subsequent fiscal years 2012 - 2013.
Chart 13:
Number of Contracts EEOC Headquarters Fiscal Year 2009 to Fiscal Year 2013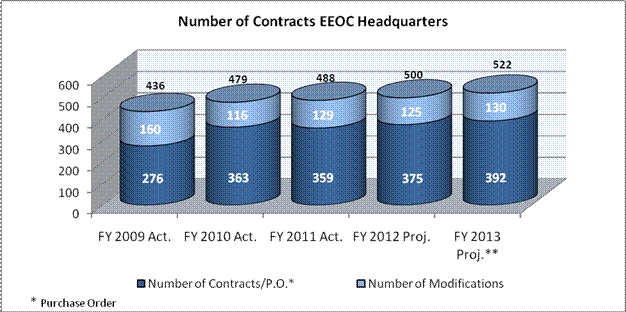 **May not add due to rounding
The purpose of Chart 14 on the following page is to show the fiscal years 2009 - 2011 actual vendors, Intra-governmental Payment and Collection (IPAC) and travel payments. Based on the actual figures, we estimate a consistent increase in payments through fiscal year 2013. From fiscal years 2009 through 2011, helpdesk statistics show an overall decreased need for technical assistance when agency user's access, update, and process data within the EEOC financial system. During fiscal year 2012, EEOC migrated to a new Financial System, and increased helpdesk requests associated with the introduction of a new system are reflected in the chart.
Chart 14:
EEOC Financial Operations Metrics Fiscal Year 2009 to Fiscal Year 2013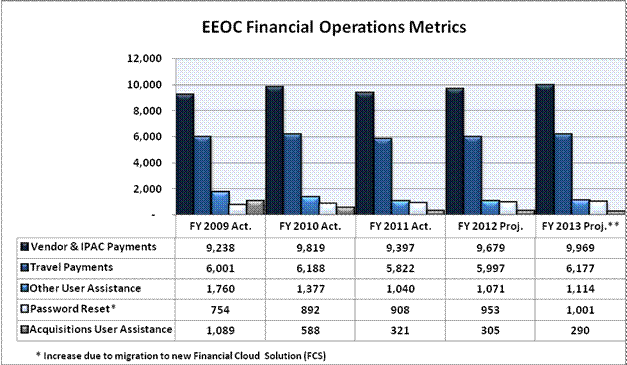 **May not add due to rounding
The Office of the Chief Financial Officer (OCFO) is responsible for numerous support functions including 300,000 pieces of regular and expedited mail. OCFO is working closely with offices in order to further reduce costs by requiring program offices to reduce mail usage through enhanced training for mail handlers, mail system automation, and alternative mail resources, such as scanning/e-mail, shared drive storage, fax, and existing contractor support for local courier services. In addition, we expect to fulfill 8,500 facility related requests, conduct nearly 4,000 records transactions, maintain a fleet of 91 vehicles, maintain a tangible property inventory of more than 8,000 items, conduct or assist with up to 2,500 excess property transactions, conduct up to 50 space related actions, to include tenant improvements, space reconfigurations, lease negotiations, expansions, relocations, construction, and overtime utilities.
Office Expansions, Rehabilitations, and Relocations
The agency continues to be challenged to meet the office space requirements for its 53 field office locations. In January 2011, we postponed or cancelled almost all planned office space expansions and rehabilitation activity due to a reduced budget and higher agency priorities. Through the National Labor-Management Partnership Agreement, the agency and the union have continued to explore cost-savings through telework and revising office-space requirements. The agency must expand certain locations and continue to carry excess capacity at a few office locations, while relocating offices with the most urgent space needs. The agency continues to plan space requirements for all offices for both the short and long terms. In fiscal year 2013, EEOC has 13 offices targeted for relocation or expansion which totals about 250,000 square feet. The total office space under lease remains about 1.0 million rentable square feet.
The offices currently scheduled for expansion include: Chicago, Detroit, Oklahoma City, St. Louis, and Tampa. Offices under lease that will relocate due to lease renewals, forced-moves by other agencies or inadequate expansion space to support our increased staffing requirements include: Cleveland, Denver, El Paso, Fresno, Indianapolis, Los Angeles, Milwaukee, and New Orleans. We will continue to right-size offices required by staffing levels as leases expire, and rehabilitate office spaces as dictated by safety issues, the age of furniture and the office environment.
E. Human Resources Function
Workforce Planning
EEOC has improved its ability to provide timely and in-depth analysis of workforce data. This includes timeliness in hiring, reducing turnover rates, and tighter integration with the budget process. These analyses will serve as a source of input for workforce planning.
In fiscal year 2012, the EEOC will continue to implement workforce planning that includes an annual review of positions to ensure the proper mix of positions is achieved; a renewed effort to hire throughout the year and avoid hiring/freeze cycles; and ensuring that decisions made in a given fiscal year are analyzed for their impact and consequences in future years. We have developed a Workforce Planning Guide for our managers to ensure a systematic approach to workforce planning. It defines fundamental steps to develop and implement workforce plans as well as identifies tools available to assist managers and leaders in the overall process. As part of our effort to change our recruitment and hiring culture, we have begun to include the overall fundamentals of workforce planning in our training for new managers and mid-level managers. As reports and projections regarding workforce planning become available, we will post them on the EEOC's intranet for the benefit of all our employees.
Competency management will be a key part of our preparations for workforce and succession planning. We made significant progress in this arena in fiscal year 2011, and will continue those efforts during fiscal year 2012. We identified competencies for four mission critical positions. The agency has identified proficiency levels and is developing a methodology to assess competency gaps for those positions. We will be identifying additional competencies so we can cascade this effort within the organization. The results of the competency assessment will be used by the agency to evaluate and modify training and development needs to ensure employees receive competency gap training and developmental opportunities. Moreover, this work will guide future human capital management initiatives that impact performance management, recruitment and retention at the EEOC.
Training
We have made significant progress in creating a comprehensive training program for the EEOC. We developed guidance to establish a centralized Individual Development Plan (IDP) funding process; this guidance reinforced the importance of having a current IDP and tied funding requests to the goals identified in each plan. Each employee was asked to work with his or her supervisor to develop an IDP. Beginning in fiscal year 2011, these needs were addressed through a quarterly training funding process. We have seen increased participation levels and engagement in this process. Approved IDP funding in the first quarter increased from $8,233 to $136,258 in the fourth quarter. A total of $294,054 in funding was approved under this process. A tangential benefit to the process is that it encouraged managers, supervisors and employees to focus on training and development needs throughout the year rather than only at year end. The agency also implemented large scale training projects during the first and second quarters of fiscal year 2011--well ahead of the prior year's program implementation timetable due to new evaluation procedures. A total of 16 projects were submitted for funding fiscal year 2011. This new process reflected an improvement in the training section of the Employee Viewpoint Survey for fiscal year 2011.
Telework Program
During fiscal year 2011 we issued revised guidance to supervisors on the management of telework and provided training to all employees, with emphasis on the use of technology while teleworking.
The Agency upgraded its computers to laptops with docking stations. The upgrade made it easier for employees to telework because each laptop is equipped with the necessary security features and the software that allows for secure remote access to the EEOC's network via Virtual Private Network (VPN). The EEOC also conducted a special session on "Managing Telework" for supervisors.
As a result of our efforts, we have exceeded the former goals established for telework by the Office of Personnel (OPM). Most recently, OPM's Employee Viewpoint Survey indicated that 52 percent of our employees telework compared to the 20 percent reported government wide. We expect that the use of telework will increase in fiscal year 2012 and fiscal year 2013.
Mentoring Pilot Program
Our mentoring pilot program partnered 40 EEOC employees (mentors) who understand the agency and its culture with 40 junior employees (mentees) to provide opportunities for mentees to learn more about the organization and strengthen core competencies and leadership skills to enhance their professional growth and development. The mentoring program is part of the agency's commitment to develop and sustain a high performance workforce that is continually learning and expanding its capacity to support the mission of the agency. Mentors and mentees were matched based on mutual interest, career goals and compatibility and included a cross section of employees from the field and headquarters. During the 12 month pilot program, the Agency provided formal training, opportunities for self and program assessment, and developmental activities. The EEOC will extend this program into fiscal years 2012 and 2013.
Labor Management Forums
In accordance with the requirements of Executive Order 13522, Creating Labor Management Forums to Improve the Delivery of Government Services, (the Order) the EEOC is committed to working with the National Council of EEOC Locals No. 216, AFGE, AFL-CIO, in expanding our labor-management relations. Under the Order, we have a sixteen member National Joint Labor Management Council (JLMC) composed of eight Local Presidents and eight Managers. In keeping with our commitment to the principles of this Executive Order, half of the managers involved in the National Council are members of our Senior Executive Service. We also have seventeen Local JLMC Councils composed of local presidents and senior managers.
Councils at every level are governed by a Joint Labor Management Agreement that embraces the tenets of the Order: to improve customer service, employee satisfaction, labor relations and operational efficiency. Workgroups formed by the councils are actively engaged with addressing these issues and our progress will be measured using a quantitative metric system.
The EEOC provided funds so that all Councils could receive joint training on the Order provided by the Federal Labor Relations Authority and the Federal Services Impasses Panel. Currently, 100 percent of the Councils have been trained. In the interest of cost savings, our councils at both the national and local levels have agreed to use technology as a means of saving money.
EEOC Wellness Program
The EEOC demonstrates its commitment to employee wellness by continually looking for ways to promote healthy practices and related workplace initiatives. We operate comprehensive health unit services in headquarters and most field offices through the Department of Health and Human Service's Federal Occupational Health Program. These units provide medical services while emphasizing preventive health measures in the belief that these programs are essential to an effective and productive organization. The agency's internal web site also is an important source of wellness and health benefits information. Yearly health fairs are held to assist employees in navigating among the myriad health options available to them. Our most recent health fair offered healthy living information through blood pressure screening, body mass index assessment and healthy cooking demonstrations, as part of a one stop health educational market place. Additionally, we offer "Lunch and Learn" sessions to provide ongoing opportunities for educational enrichment.
In fiscal year 2012 health coaching was offered to all agency employees. The health coaching program assisted EEOC employees in assessing health status, establishing goals and taking action for healthier behavior change in the areas of stress and weight management. Employees were afforded an opportunity to work with a dedicated health coach or trained health educator to tailor an individualized health and wellness program specific to their lifestyles and goals.
Our headquarters location houses a fitness center with shower and locker rooms, secured bike room and outside bicycle rack, hand sanitizing stations and indoor/outdoor tobacco-free areas among its health conscious amenities. We promote the availability of employee paid services such as yoga and massage therapy on site as well as a lactation room in the health unit.
As we go forward, we expect to enhance our current efforts and direct our future resources effectively through an agency-wide wellness assessment analysis.
Communication
We plan to expand and improve the ways in which we provide information to employees on topics vital to the agency's mission and of concern to employees. For example, we have redesigned InSite, our intranet, to make it more user friendly. We have conducted an internal review of how we provide information to the public as well as the type and format of the information provided. That review is also expected to produce recommendations on how to improve internal communications within the agency.
F. Workplace Issues
RESOLVE, the EEOC's internal alternative dispute resolution program mediates disputes for Commission's staff in Headquarters and the 53 field offices. We have seen that addressing workplace issues fairly and effectively helps foster amicable working relationships, enhances employee morale and productivity, and reduces the financial and other resources associated with workplace conflict. This very active program will continue outreach to all of the Commission's staff, will serve as a resource for individual employees and groups of employees, and also will continue to conduct seminars to help employees develop conflict resolution skills.
To fulfill the Commission's vision for a fair and inclusive workplace, and as a key component of the EEOC's model workplace initiative, the Commission plans to expand its internal workplace dispute resolution program by creating an office of organizational (internal) Ombudsman. Through confidential employee engagement, the Ombudsman promotes better communication, fosters constructive dialogue, increases collaboration, identifies systemic issues, facilitates equitable outcomes, and improves transparency of the organization.
The EEOC recognizes that Collective Bargaining with the exclusive representative of its bargaining unit employees is in the Public Interest. The agency also embraces the concept that Federal employees and their union representatives are an essential source of front-line ideas and information about the realities of delivering Government services to the American people.
For these reasons, the agency realizes the importance of engaging in non-adversarial labor-management forums to improve the delivery of government services, employee satisfaction and labor relations.
Finally, the agency will improve the conditions of employment for employees and update certain policies and procedures by renegotiating the Collective Bargaining Agreement between the National Council of EEOC Locals, No. 216 American Federation of Government Employees.
G. Equal Opportunity
EEOC remains firmly committed to promoting and maintaining a work environment that ensures equality and inclusion for all of our employees and applicants for employment. The Office of Equal Opportunity (OEO) is charged with ensuring that the Commission accomplishes these goals, through its Complaint Processing Program and the Affirmative Employment Program. Working collaboratively with highly-dedicated employees, managers, and stakeholders of EEOC-OEO is seizing the challenges and opportunities to create and sustain a diverse and inclusive workforce that best serves the public.
Creating a Diverse Workforce and an Inclusive Workplace
In an effort to create a diverse workforce and an inclusive workplace, the EEOC continues to conduct rigorous barrier analysis of the workforce to identify barriers to full participation and to create innovative action plans to remove those barriers. We have removed several workplace barriers within the past year due, in part, to increased resources and a reinvigoration of the Affirmative Employment Program. In addition, OEO has revived the EEOC Speaker Series to encourage our employees to discuss matters of contemporary social justice by inviting commentary from a wide-range of speakers. We have further developed and strengthened our existing relationships with affinity groups/employee organizations. We have also identified additional affinity groups/employee organizations and community groups that we have formed partnerships with. The goals of these efforts are to share information, develop strategies to promote an inclusive workplace, and establish partnership agreements to support relevant initiatives. Finally, OEO started the Education and Enrichment Series, designed to deliver educational opportunities to the widest possible audience at the Agency in the most cost-neutral manner feasible. Thus far, the series have included: "Avoiding Stress and Burnout", "Macro- and Micro-Inequities", and the "Events Leading to the Passage of the Civil Rights Act of 1964".
Enforcing EEO Laws, Regulations, and Policies within the EEOC
The Complaint Processing Program continues to ensure compliance with EEO laws, regulations, and policies. We have improved the adherences to regulatory timeframes and the quality of counselings, investigations, and decisions by conducting a comprehensive review of existing processes and procedures, and by identifying new strategies (e.g., case-status meetings, investigator updates, use of templates, standardized processes) to provide improved services to our employees and applicants for employment. We have also increased training for OEO staff and agency employees, developed informational materials to educate staff about the complaints process as well as our affirmative employment program.
The agency's current fiscal years 2007-2012 Strategic Plan established a new strategic framework and corresponding performance measures. It was modified in fiscal year 2008 and these modifications, as reported below, were implemented and approved by the Commission on July 28, 2008. They are included in the current performance measurement structure graphically displayed on page 52. (Also, see Section VIII, G, Interim Adjustments to the Strategic Plan, on page 59 for a description of the specific modifications made to the Strategic Plan.)
The resources requested in this performance budget are focused on maintaining the reach of our enforcement and outreach programs, while promoting public confidence in our ability to resolve charges of discrimination in a timely, accurate, and consistent manner.
Long-Term/Annual Measure 1 focuses on tracking the improvements that are made in the workplace as a direct result of our enforcement programs. It was developed to focus on all enforcement services we provide to the public that result in workplace benefits, and is based on the number of employees in the employer's workplace impacted by a benefit. Specifically, these results include benefits - changes in workplace policies, practices, and/or procedures - from administrative resolutions (i.e., mediation), litigation resolutions, and federal sector hearings and appeals resolutions. Fundamentally, we believe that when we secure changes in employment policies, practices, and procedures through our enforcement programs, we have a positive impact not only on the immediate victims of discrimination, but also on all individuals in the affected workplace. As a result of these targeted efforts, we anticipate making continuous increases over time in the number of individuals who benefit from our enforcement activities.
The fiscal year 2011 annual target for this measure was to increase the number of individuals benefiting from improvements to organizations' policies, practices, and procedures by 15.6 percent over the fiscal year 2007 baseline. The results for fiscal years 2011 was 230.3 percent above the baseline value, or 5.4 million individuals benefiting from workplace improvements obtained through all of our enforcement programs - substantially above the annual target established for fiscal year 2011.
Increasing the number of working people who benefit for each agency Full-Time Equivalent (FTE) position improves the efficiency of our operations because approximately 74 percent of the agency's budget is dedicated to compensation and benefits. We believe that the correlation to agency FTE levels is appropriate in that it recognizes that our staff contributes directly to positive change in the workplace and that staff levels are susceptible to change.
In fiscal year 2011, the agency had 2,505 FTE positions. Over 5.4 million individuals benefited through our enforcement programs because of improvements to policies, practices, or procedures in their workplaces. Therefore, 2,144 individuals benefited for every FTE. This was a significant increase of 184.5 percent over the fiscal year 2007 baseline, compared to the 7.4 percent increase targeted for fiscal year 2011.
**N/A - Not available: The agency is evaluating the data collection requirements associated with this measure as a part of its overall strategic planning assessment.
If the public is aware of the EEOC's enforcement activities and believes that the agency has handled discrimination complaints effectively, then they will be more likely to rely on EEOC to investigate, mediate, litigate, adjudicate, and/or otherwise resolve allegations of discrimination. By extension, if the agency has a reputation for fair and responsible enforcement of the federal employment discrimination laws, then employers, attorneys, and other members of the public will be more likely to defer to EEOC's assessment of discrimination complaints and commit to voluntary compliance through mediation, settlement, or conciliation.
To measure the public's confidence in the EEOC's enforcement of federal equal employment opportunity laws, the agency engaged an independent organization to conduct a survey in fiscal year 2007 of a representative sample of individuals nationwide. From that survey, the EEOC was able to establish a baseline value for fiscal year 2007. A follow-up survey is pending the completion of the agency's overall strategic planning assessment.
The agency has also identified the following six, annual measures, under Long-Term Measure 2, that contribute to the public's confidence in EEOC. Annual Measures 2.1, 2.2, and 2.3 focus on the resolution of private sector charges, federal sector hearings, and federal sector appeals, respectively.
In fiscal year 2011, we investigated and resolved 40.7 percent of private sector charges in 180 days or less, which was considerably short of the intended target. The agency's inability to meet this target was due to the continued emphasis on reducing the large pending inventory, which includes many older cases, as well as a shortage of front-line staff to address the inventory situation. For the long-term, however, we believe that the agency's multi-year approach - including technology and possible changes to internal procedures - to reducing the pending inventory will yield improved performance on resolving charges in 180 days or less. We will continue our efforts to achieve target levels for timely service and to improve the quality of investigations while handling our charge inventory.
Annual Measure 2.2 addresses the resolution of federal sector hearings within 180 days. In fiscal year 2011, the agency resolved 34.3 percent of federal sector hearings within 180 days. Although the targets and final goal reflect the agency's commitment to continue the timely handling of federal sector hearings, our reported results remain significantly below the projected targets that were increased to 53 percent for fiscal year 2011. Over time, our efforts to achieve this goal have become more difficult because of increasing workloads and a greater emphasis on enhancing the quality of hearings. There are, however, a number of technological enhancements currently being designed and developed, and in some instances, piloted, to improve operational efficiency. It is anticipated that these enhancements will streamline certain phases of the hearings process and, for the long-term, will produce gains in the processing time for complaints. We will continue to reinforce our efforts to achieve the projected annual targets.
Annual Measure 2.3 addresses the resolution of federal sector appeals within 180 days or less. In fiscal year 2011, the agency fell considerably short of its 68 percent target by resolving only 54.4 percent of its federal sector appeals within 180 days or less. The agency has renewed its efforts to reduce its appeals inventory by focusing on the systematic resolution of aged appeals, as we move toward the final goal of 70 percent in fiscal year 2012.
Annual Measure 2.4 ensures that investigative files meet quality standards. A large proportion of sampled investigative files are reviewed to determine whether they meet two critical quality criteria: 1) the appropriate charge categorization and file documentation supports the actions taken; and 2) the resolution of the charge is supported. This measure is intended to ensure that we do not complete our work too quickly at the expense of performing our work well. The annual targets for this measure have increased since the baseline was established in fiscal year 2005, and the agency has consistently exceeded these targets each year. In fiscal year 2011, 95.6 percent of investigative files met the requisite quality standards, exceeding the fiscal year 2011 target of 92 percent.