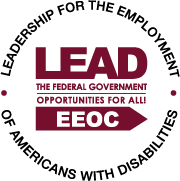 LEAD Program Tips
Below are four basic tips all agencies can adopt to immediately improve the employment picture at their agency. While this list is not exhaustive, it would be a tremendous step forward for most agencies.
Set a goal; make a plan; implement!

Plenty of agencies have an interest in performing better in this area, but few make a plan to do so. The difference between those that set goals and then make plans to implement them and those that do not is clear – the latter group fails to make progress.
Seek out advice from agencies that are doing well if no one in your agency knows where to begin. The Social Security Administration is a great agency to start with. At the cabinet level, the Department of the Treasury also stands out.

Hire or appoint a Disability Program Manager and/or a Selective Placement Coordinator. Both would be ideal.

There should be at least one individual within each agency who is responsible for assuring that the agency is working toward model agency status, with regard to individuals with disabilities. This person(s) will contribute significantly to –

increasing the participation rate of individuals with disabilities within the agency overall;
increasing the participation rate of individuals with disabilities at the higher grade levels;
making sure hiring officials are informed about agency goals for hiring individuals with disabilities; and
making sure needed accommodations are provided to individuals with disabilities.
A good example is the Department of Transportation, which has both a DPM and a SPC. DOT defines the complimentary roles as follows:

"The Disability Program Manager (DPM) in the Equal Employment Opportunity Programs Division examines personnel data and other information to identify barriers to full employment of people with targeted disabilities. The DPM also provides training on disability laws and regulations of people with disabilities."
"The Departmental Selective Placement Coordinator (SPC) leads efforts to recruit people with disabilities, especially those with targeted disabilities. The SPCs also provide information on excepted appointment authorities for people with disabilities."

Make sure this position/person(s) is empowered to fully implement the program. Effective DPMs and/or SPCs work directly with recruiters, HR personnel, state and local vocational rehabilitation commissions, and, importantly, hiring managers.
Encourage the DPM and/or SPC to attend disability related conferences, such as the Deaf and Hard of Hearing in Government's (DHHIG) National Training Conference or the Perspectives on Employment of Persons with Disabilities Conference.

Make sure the HR personnelists in your agency understand how to handle Schedule A applications.

There should be at least one person within your agency, in HR, who is well-versed on the all various hiring authorities, internships, and employment programs designed specifically to benefit people with disabilities (including veterans with disabilities).
Additionally, every person in HR who is involved with selections must have a clear understanding of what to do with Schedule A applications. Often, the first person who encounters a Schedule A application is a personnelist who is unfamiliar with the hiring authority. As a result, s/he handles the application incorrectly and the applicant loses out on an opportunity.

Deal head on with the attitudinal biases of your hiring managers.

Ultimately, the hiring managers within each agency make the decisions that affect who gets an opportunity and who does not. It is therefore imperative that hiring managers understand fully their obligations under the various employment laws.
Too often, the biases of hiring managers are unlawfully influencing hiring and/or promotion decisions ("People with disabilities are likely to be absent often;" "She couldn't possibly do this job because she's deaf;" "I don't want to have to pay for the accommodations this person will need, so I'm not going to hire them.").
HR and/or EEO should provide quarterly reports to senior leaders on exactly how managers are performing in this area to help the agency reach its goals.
And then agency leaders must hold managers accountable.