A Message from Acting Chair Victoria A. Lipnic

Post from Acting Chair Victoria A. Lipnic - January 2018

Martin Luther King, Jr. Day 2018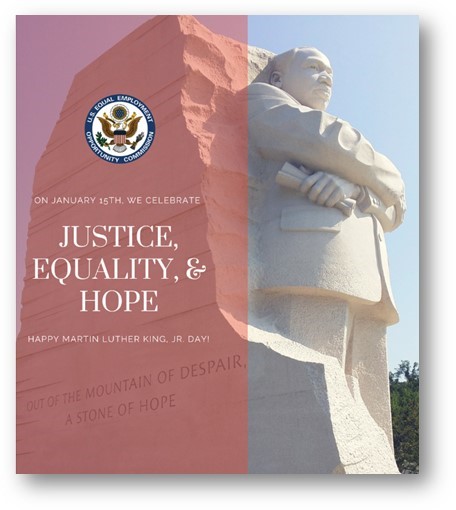 This year will mark the 32nd year of the federal holiday recognizing the life and work of Dr. Martin Luther King, Jr.
Every day at the EEOC, we are reminded of his work, his vision, his prophecy. Our work is a deep part of his legacy. His call to service is what each member of the EEOC brings to our work every day.
In 1968, Dr. King gave two of his most famous sermons. The first, " The Drum Major Instinct," he preached from the pulpit of Ebenezer Baptist Church in Atlanta, Georgia on February 4, 1968. The other, " I See the Promised Land," he delivered at Mason Temple in Memphis, Tennessee on April 3, 1968, on the eve of his tragic assassination.
As Dr. King implored us always to be about justice, I dare say no one can do justice to his words. And so, on this "MLK Day," as we now refer to it in shorthand, I invite you to take the time to listen to his remarks from 1968 in their entirety. Fifty years has gone by, but their message is timeless.
With deepest respect,
Vicki Lipnic
Acting Chair