The U.S. Equal Employment Opportunity Commission
---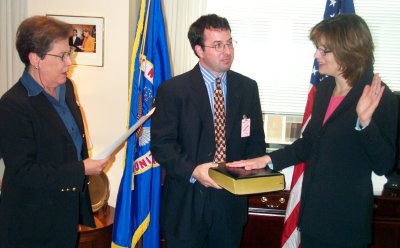 Leonora L. Guarraia, Chief Operating Officer (left), swears in Leslie E. Silverman, Commissioner (right), with her husband, Jon Bernstein.
PRESS RELEASE
3-7-02
LESLIE E. SILVERMAN TAKES OATH AS EEOC COMMISSIONER
WASHINGTON - Leslie E. Silverman was sworn in today as a Commissioner of the U.S. Equal Employment Opportunity Commission (EEOC) to serve the remainder of a term expiring July 1, 2003. Ms. Silverman was nominated by President George W. Bush on February 11, 2002, and unanimously confirmed by the U.S. Senate by a voice vote last week on March 1.
"The EEOC is fortunate to add Leslie Silverman to its team of Commissioners," EEOC Chair Cari M. Dominguez said today during an official swearing-in ceremony at agency headquarters. "Her work experience and educational background in labor and employment law, coupled with her professionalism and integrity, will make her a vital asset to the agency. Most importantly, she deeply cares about EEOC's mission. On behalf of my fellow Commissioners and all EEOC staff, I welcome Leslie and look forward to working closely with her."
Ms. Silverman's work experience in labor and employment law includes positions in both the public and private sectors. Since 1997 she has served as labor counsel of the Senate Health, Education, Labor and Pensions Committee. Prior to that, from 1990 to 1997, she was a litigation and employment law associate for Keller and Heckman, a Washington, D.C.-based law firm.
Her educational background includes a law degree from American University and a masters degree in labor and employment law from Georgetown University Law Center. A native of Massachusetts who currently resides in Northern Virginia, Ms. Silverman attended the University of Vermont as an undergraduate.
Ms. Silverman joins Chair Dominguez, Vice Chair Paul Igasaki, and Commissioner Paul Steven Miller on the five-member Commission. President Bush has nominated Naomi Churchill Earp to fill the remaining vacant seat on the Commission and announced his intent to nominate Donald Prophete to serve as General Counsel.
EEOC enforces Title VII of the Civil Rights Act of 1964, which prohibits employment discrimination based on race, color, religion, sex or national origin; the Age Discrimination in Employment Act; the Equal Pay Act; Title I of the Americans with Disabilities Act, which prohibits employment discrimination against people with disabilities in the private sector and state and local governments; prohibitions against discrimination affecting individuals with disabilities in the federal government; and sections of the Civil Rights Act of 1991. Further information about the Commission is available on its Web site at www.eeoc.gov.
---
This page was last modified on March 15, 2002.

Return to Home Page