The U.S. Equal Employment Opportunity Commission
---
FOR IMMEDIATE RELEASE
August 11, 2003
PRESS RELEASE
8-11-03
Eric Dreiband Takes Oath As EEOC General Counsel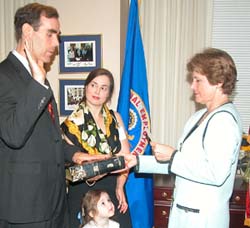 Eric Dreiband was sworn in today as General Counsel of the U.S. Equal Employment Opportunity Commission (EEOC) for a term of four years. Dreiband, most recently Deputy Administrator for Policy in the U.S. Department of Labor's Wage and Hour Division, was nominated by President Bush on February 4 and unanimously confirmed by the U.S. Senate on July 31.
"We are very fortunate to have Eric Dreiband as the Commission's General Counsel. Eric brings impeccable credentials to his new role," said EEOC Chair Cari M. Dominguez. "Most importantly, he brings a strong personal commitment to making the principle of equal employment opportunity a reality for all."
The EEOC's General Counsel directs the Commission's enforcement and litigation through the 23 regional attorneys in the agency's district offices who file and litigate the Commission's suits throughout the country. In addition, he directly manages administrative and litigation staff in the headquarters Office of General Counsel, which includes an appellate division responsible for all of the Commission's appellate and amicus curiae litigation.
"I am pleased and proud to be working with Chair Dominguez on her vision for a discrimination-free workplace – an even playing field for every American worker," said Dreiband. "The EEOC has been working hard for employment justice for 38 years now, and I am both proud and humbled to be a part of that crucial mission."
Before working for the Labor Department, Dreiband worked with the Chicago law firm of Mayer, Brown, Rowe and Mawe, where he litigated cases before state and federal trial courts, appellate courts, and administrative agencies throughout the United States. Dreiband's cases included labor and employment, consumer fraud, computer fraud, internet disputes, class actions, commercial disputes, and criminal cases. His areas of practice included Title VII of the Civil Rights Act of 1964, the Americans With Disabilities Act, the Age Discrimination In Employment Act, the Fair Labor Standards Act, the Equal Pay Act, and the Occupational Safety And Health Act. Dreiband also worked as a federal prosecutor in Little Rock, Ark., and in Washington, D.C. in the Office of Independent Counsel.
Born and raised in Indianapolis and Fort Wayne, Ind., Dreiband graduated from Princeton University with an undergraduate degree in history. Dreiband earned a Master of Theological Studies Degree from Harvard University, where he concentrated in ethics and public policy and studied at Harvard's Divinity School, Kennedy School of Government, Graduate School of Education, and Graduate School of Arts and Sciences.
Dreiband received his law degree with honors from the Northwestern University School of Law. During law school, Dreiband served as an Articles Editor of the Northwestern University Law Review. Following law school, Dreiband clerked for the Honorable William J. Bauer of the United States Court of Appeals for the Seventh Circuit.
The EEOC is the federal agency charged with enforcing Title VII of the Civil Rights Act of 1964, which prohibits employment discrimination based on race, color, religion, sex (including sexual harassment or pregnancy) or national origin and protects employees who complain about such offenses from retaliation; the Age Discrimination in Employment Act of 1967, which protects workers age 40 and older from discrimination based on age; the Equal Pay Act of 1963, which prohibits gender-based wage discrimination; the Rehabilitation Act of 1973, which prohibits employment discrimination against people with disabilities in the federal sector; Title I of the Americans with Disabilities Act, which prohibits employment discrimination against people with disabilities in the private sector and state and local governments; and sections of the Civil Rights Act of 1991. Further information about the Commission is available on the agency's web site at www.eeoc.gov.
---
This page was last modified on August 11, 2003.

Return to Home Page