Post from Acting Chair Victoria A. Lipnic - April 2018

Equal Pay Day, April 10, 2018

Today, April 10th, we recognize Equal Pay Day -- the point of time in the calendar year when, after adding up the wages of all working women, their median wage equals that of the median wage of working men from the prior year. In other words, only after working the first four months of the new year do working women start to catch up. And that is only If we separate out women of color -- their Equal Pay Day is months even further into the year.
Equal Pay Day was first started in 1996 by the National Committee on Pay Equity to highlight the gap between men and women's wages. Long before that, in 1963, the nation made it a matter of federal law that there must be equal pay for equal work. Still, fifty-five years later, we at the EEOC continue to see discriminatory pay practices that disregard the concept of equal pay for equal work.
We don't just decry pay discrimination, we combat it over and over. Just a few examples:
A Texas business that provides logistics, transportation and warehouse services to manufacturers and retailers paid $45,000 to settle an EEOC lawsuit after the Commission alleged that it paid a female director less than three male directors. When her male counterparts were fired, she was put back into the job but paid a lower annual salary. The woman complained to her supervisors who refused to do anything about it.
A Los Angeles concrete liner company paid $105,000 to settle an EEOC lawsuit that alleged that it paid a female sales representative less than a male counterpart in the same job in base pay. The EEOC also contended that the company required the female sales representative to sell more to earn the same commission as her male colleague. After the woman complained about the discrepancy, instead of rectifying matters, the company assigned her a less lucrative sales territory, increased her personal sales goal, and monitored her computer and cell phone usage.
A Virginia janitorial services company paid more the $35,000 to settle an EEOC lawsuit that charged that it paid a female porter a lower wage than her male counterpart. The suit further alleged that after the woman complained about the discrepancy and asked that her wages be increased, the company retaliated by assigning her more work, verbally harassing her, and ultimately firing her.
I remain committed to the EEOC's push for equal pay and have worked to ensure that our agency remains a leader in this area. Over the past two years EEOC has worked diligently to enforce federal laws prohibiting pay discrimination, resolving more than 5,000 charges alleging pay discrimination on the basis of sex and recovering approximately $40 million through the administrative process and litigation. I am immensely proud of the work we have done, and commend each and every member of the EEOC's staff who has contributed to these efforts. Yet while we have made great strides, it is clear that there remains much work to be done.
Best regards,
Victoria A. Lipnic
Acting Chair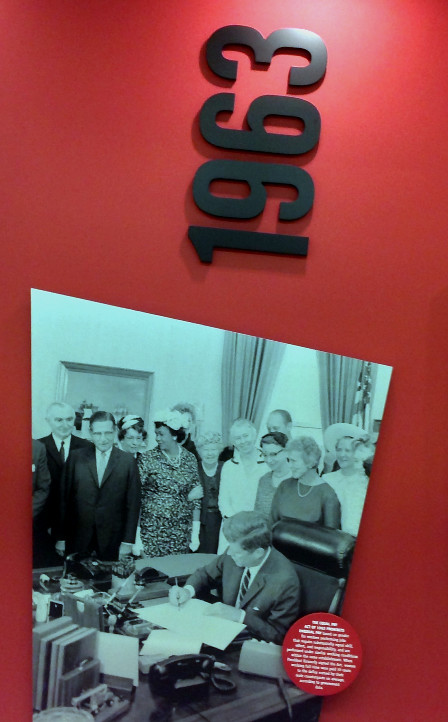 President John F. Kennedy signs the Equal Pay Act in the Oval Office of the White House, Washington, D.C.
Others (L-R): Senator Wayne Morse (Oregon); Senator Winston L. Prouty (Vermont); Representative Florence Price Dwyer (New Jersey); President of the National Council of Negro Women (NCNW), Dorothy Height; former Director of the Women's Bureau in the Department of Labor, Mary Anderson; Assistant Secretary of Labor for Labor Standards, Esther Peterson; Director of Research and Program Resources for the Young Women's Christian Association (YWCA), Ethlyn Christensen; Representative Carlton Sickles of Maryland (partially hidden behind Ms. Christensen); President of the National Council of Jewish Women (NCJW), Pearl Larner Willen; Representative Leonor K. Sullivan (Missouri); Senator Maurine Neuberger of Oregon (partially hidden). Photo on display in the EEOC Training Center.