A Message from Acting Chair Victoria A. Lipnic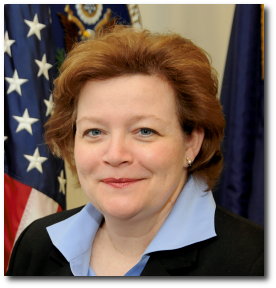 Victoria A. Lipnic
Acting Chair

(February, 2018)
Myrlie Evers-Williams stated, "I have reached a point in my life where I understand the pain and the challenges; and my attitude is one of standing up with open arms to meet them all."

(January, 2018)
This year will mark the 32nd year of the federal holiday recognizing the life and work of Dr. Martin Luther King, Jr.
(September / October, 2017)
From September 15 to October 15, we celebrate Hispanic Heritage Month. This observance encompasses many memorable dates of Latin American Heritage. Indeed, September 15 was chosen as the start of Hispanic Heritage Month because it is the anniversary of independence of five Latin American countries: Costa Rica, El Salvador, Guatemala, Honduras, and Nicaragua - all in 1821. Mexico, Chile, and Belize celebrate their independence days later in September.
(June, 2017)
Social movements are made up of many kinds of people working together for a common goal. But sometimes movements are encapsulated by a few very special people who crystallize and symbolize the set of ideals they espouse.

(May, 2017)
Older Americans Month honors older Americans and celebrates their contributions to our country. The EEOC recognizes the value that older workers bring to the workplace and to our economy as we commemorate the 50th anniversary of the Age Discrimination in Employment Act of 1967 (ADEA) this year.

(May, 2017)
During Asian American and Pacific Islander (AAPI) Heritage Month, we recognize the many contributions of generations of Asian Americans, Native Hawaiians, and Pacific Islanders to building this great nation. From farmworkers to railroad laborers, to entrepreneurs and scientists, and to members of the armed forces and public servants, AAPIs have helped shaped the very fabric of America.

(April 4, 2017)
Today the nation celebrates Equal Pay Day, and the EEOC has many reasons and motivation to do so. Of course, combating (and, hopefully, someday eliminating) employment discrimination is our core mission, and there is a long history of workplace discrimination directed at women. There is no justification for paying anyone less simply because of their gender. I am absolutely committed to the EEOC's push for equal pay and will continue to make sure our agency remains a leader in this area.

(March, 2017)
This month, we have been recognizing National Women's History month. The theme for this year's celebration is "Honoring Trailblazing Women in Business and Labor."

(February, 2017)
February marks recognition of African American History Month for our nation. I am delighted that one of my very first acts as Acting Chair of the EEOC is to celebrate and recognize this month and the achievements of African Americans in this country.